SLEEPING GIANT PROVINCIAL PARK
KABEYUN TRAIL LOOP, AUG 2010
Aug 27th – Aug 29th
3 Days
Mileage: 73 km
(45.4 miles)
This trip consisted of hiking the entire length of the Kabeyun Trail in Sleeping Giant Provincial Park, and then connecting back to the start of the trail via the Sawyer Bay Trail, Sawbill Lake Trail, Marie Louise Drive Road, Burma Trail, Twinpine Lake Trail, and then backtracking on the first 8km of the Kabeyun Trail to the start/finish. The hiking is generally beautiful forested trails with side trips up to lookouts with fantastic views. The good thing about this trail loop is that one can choose to do the sidetrails based on energy levels and time. If one wants a light day, simply stick to the main trail and if you are looking for a challenge, select one of the many side trails. I always say I'm just an average hiker, but the itinerary I followed for this trip is a strenuous and intense workout. It should only be attempted by the most experienced backpackers traveling light and fast. If you are in good shape and have an UL pack, give this loop a try, but if not then you may want to add 1 or 2 days to the trip.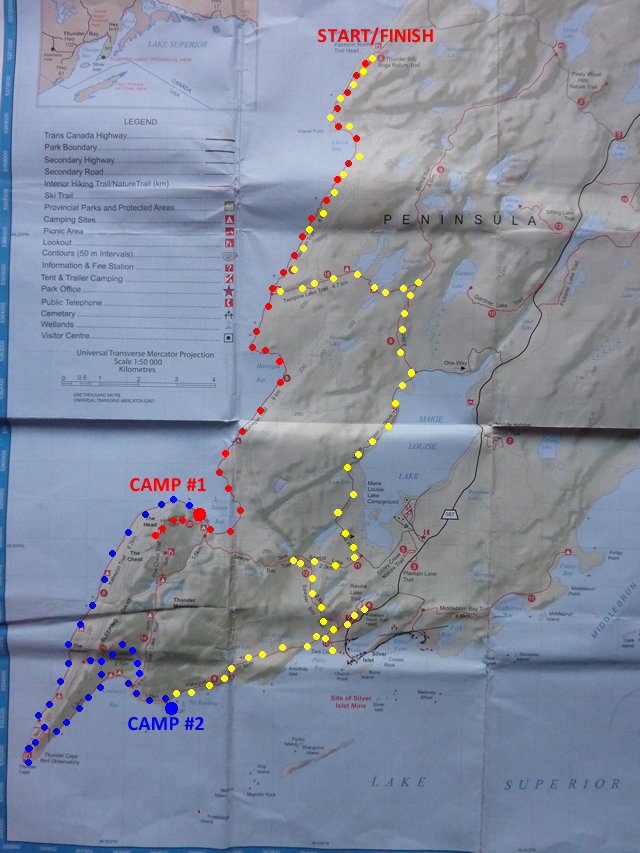 Driving Day (August 26th)
Driving Time: 16 hours
Distance: 1367 km (850 miles)
I live in Toronto, and Sleeping Giant P.P. is right by Thunder Bay. Take a look at a map one day and you'll see it's a long drive up north to get there. I left at 4:30am to beat the city traffic up the highway. What can I say about a drive like this other than it is brutal and after the first 10 hours I started to question if I had made a good choice. The drive there is ALWAYS easier than the drive back. Regardless, I pushed on and made it to the park at 9:30pm stopping only for gas and food along the way. The office was closed but the park is not busy so I drove to the campground and picked a spot for the night. My legs and back were aching from sitting all day. I had a beer, read a free brouchure I grabbed from the office, and basically went to bed by 11pm. I needed the sleep.
Day #1 (August 27th)
Hiking Time: 7.5 hours
Distance: 19.6 km (12.2 miles)
I didn't budge all night. First thing I can remember is waking up at about 8am feeling like I just had the best sleep of my life. What's harder, driving or hiking? I packed up my stuff and drove straight to the park office. It didn't open for about 30 minutes which was perfect as I hadn't packed up all my gear or changed into my hiking clothes. As I was getting ready, I saw the ranger open the office for the day so I went and grabbed my permit. I asked for a bit of advice on the trail as there is barely an info on it out there and we decided together that I would take 4 days to complete my intended loop. I headed back to the car, finalized my food for the 4 days, and changed into my hiking clothes. I was about to hop into my car when I saw a deer just hanging out beside the parking lot munching on some grass.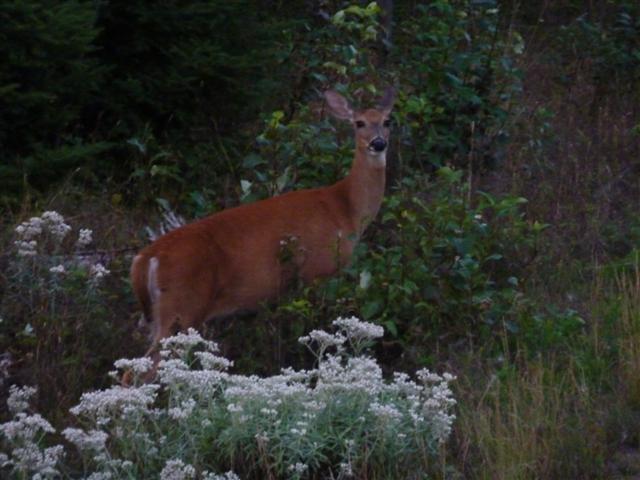 I enjoyed the moment for a minute and then got in the car. It took about 20 minutes to drive to the north end of the park where the Kabeyun Trail officially starts. The road and parking lot are in very rough shape so I was glad I had the truck. Upon arrival, I saw there was a lookout there and checked it out. It is setup really cool with an overhang over the cliff and the floor is just bars so you can see down. Kind of scary really.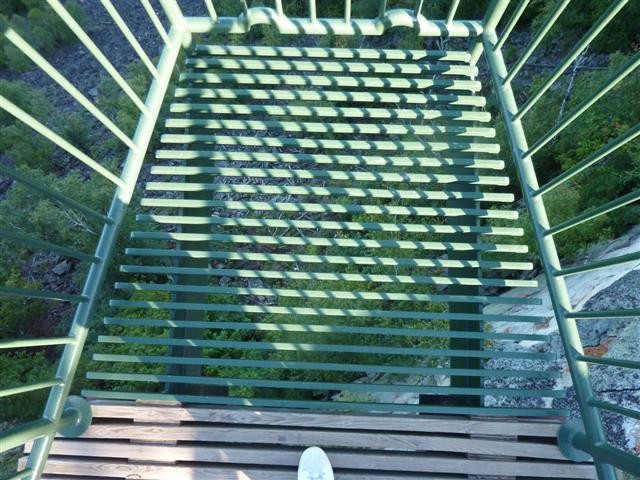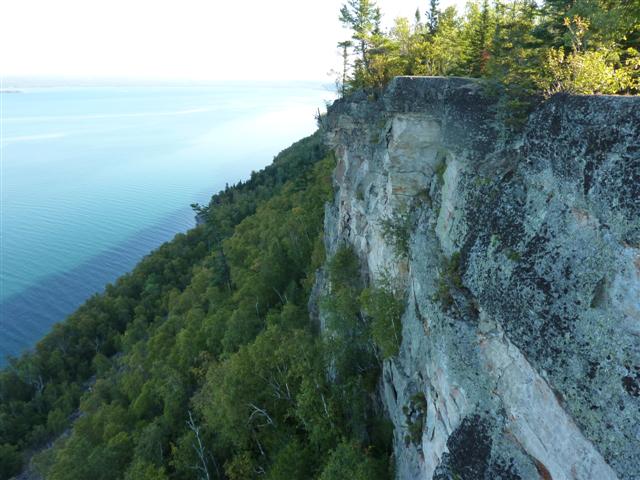 I was excited to get started so I went back to the car, grabbed my pack and headed off for my adventure. I knew almost nothing of the trail so it was going to be an exciting trip for me.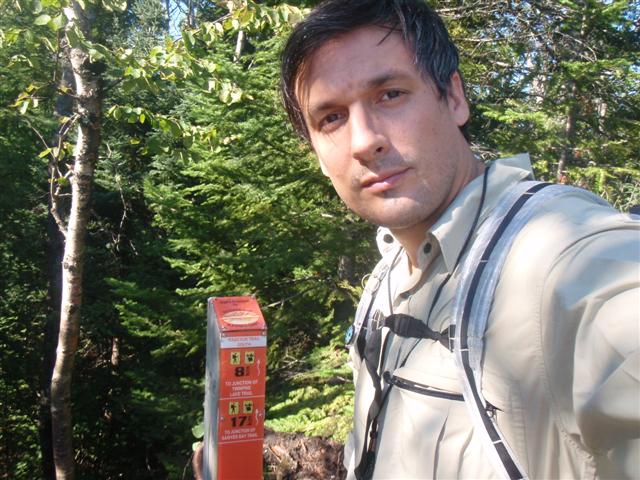 The hike begins at the top of a cliff so the first section is a slow downward trail which brings you to the lake below. The trail then winds its way through a forested trail, and occasionaly scoots you out to the lake. Not long after beginning the hike, I came across an old run down cabin. I thought maybe some animals lived in it so I approached causiously, but nothing except for some left over reminants were in there.
The weather was very hot and by lunch, I was really feeling the heat. I stopped at one of the many beaches to grab a bite to eat and cool off by the lake.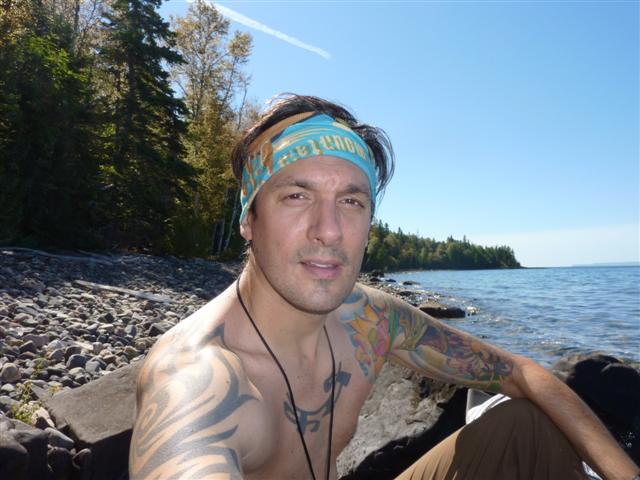 Within 3 hours, I had met the junction of the Kabeyun and Twinpine Lake Trails. I was planning to stay at Sawyer Bay for the night so I was about halfway there.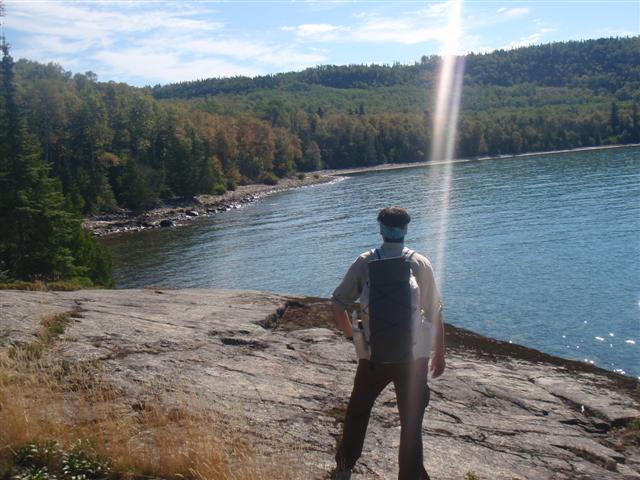 The trail was relatively flat along the coast and when I did finally reach Sawyer bay, it was a beautiful calm cove with a nice beach running all the way around. From this side, you can make out the "Sleeping Giant" and it really does look like one. I thought it was very cool. The head and chest are shown in the picture below.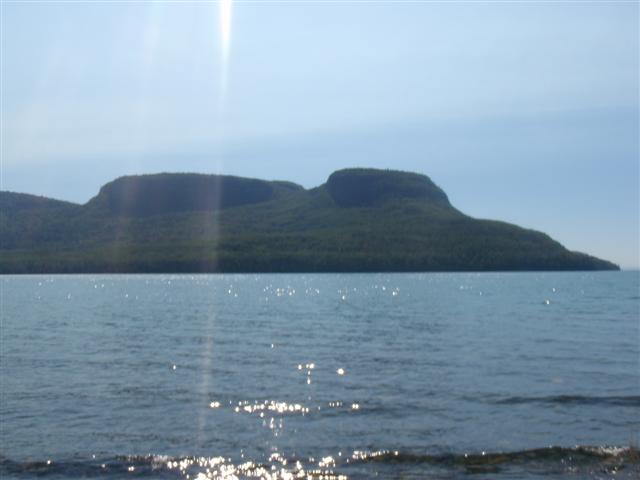 There were several boats in the bay with a rickity old dock and beaten up hut. There was also an animal skull of some sort by the side of the dock. My best guess would be a deer skull, but I really don't know. I could see my campsite on the other side of the bay. I would be there soon.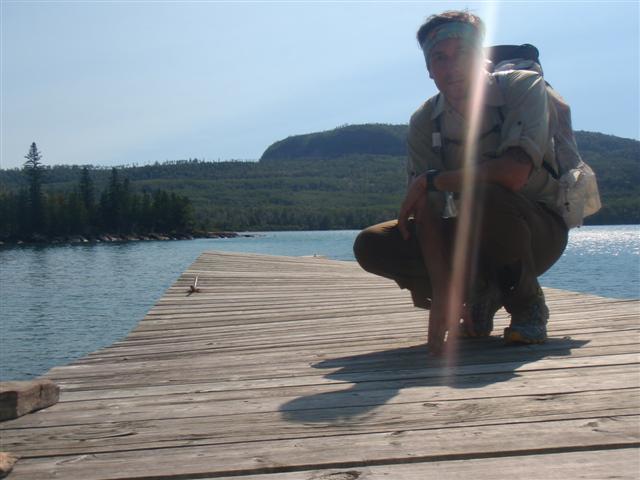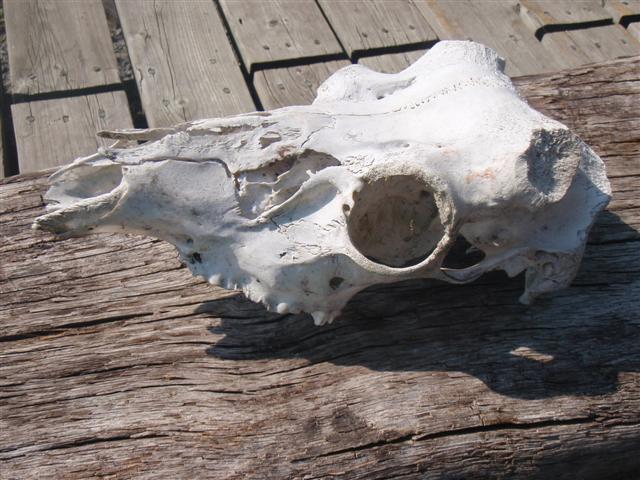 I could see the boats in the bay were having a party with music and drinks. A little out of place considering I was hiking but it didn't bother me. I made my way around the bay, coming across a nice footprint on the beach, and finally reaching my campsite. It was set up very nicely with a great view of the lake, a fire pit, and some great benches to rest my tired body.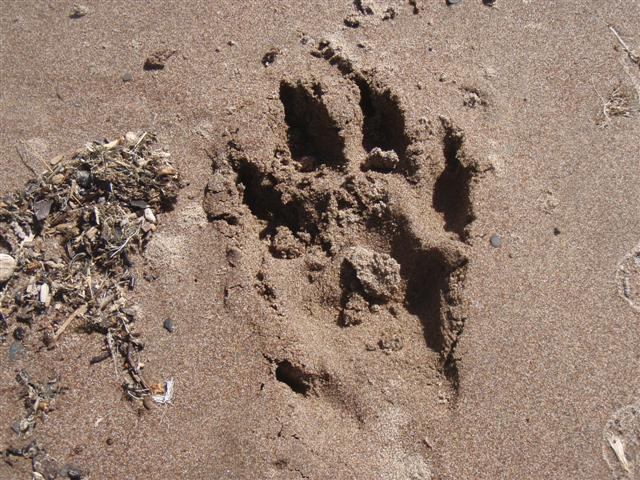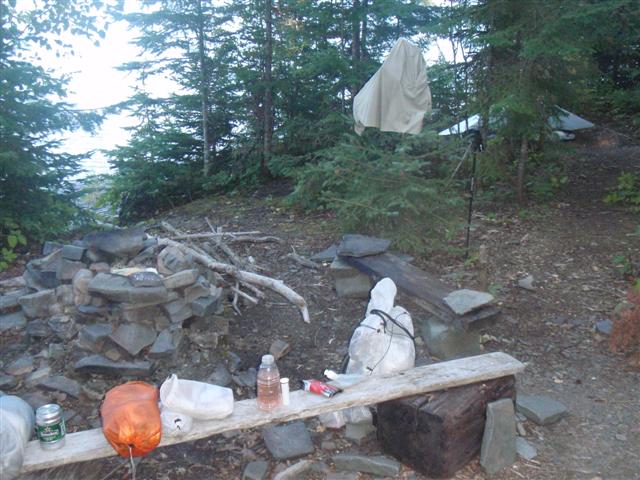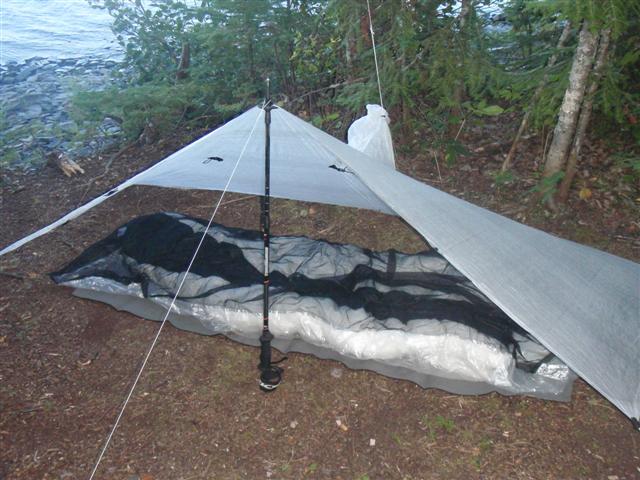 I had plenty of daylight left so I came up with the idea that I would go up the Head Trail to take in the view from the top. When I got to the trail junction, I saw that it stated it was an extreme trail. I didn't think much of it and headed up. I specifically remember being 17 minutes into the hike up and I was getting beat up pretty good. It isn't too tough of a hike, but I had already pulled off 16 kilometers that day so I didn't have an excessive amount of energy at this point. I did finally make it up in about 45 minutes. The wind was blowing hard but the view was fantastic.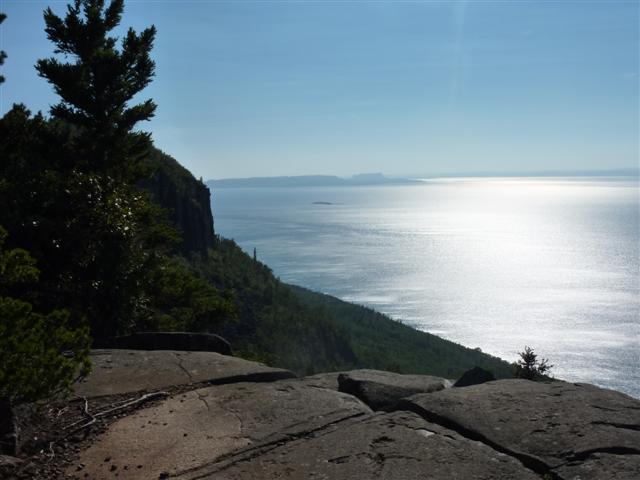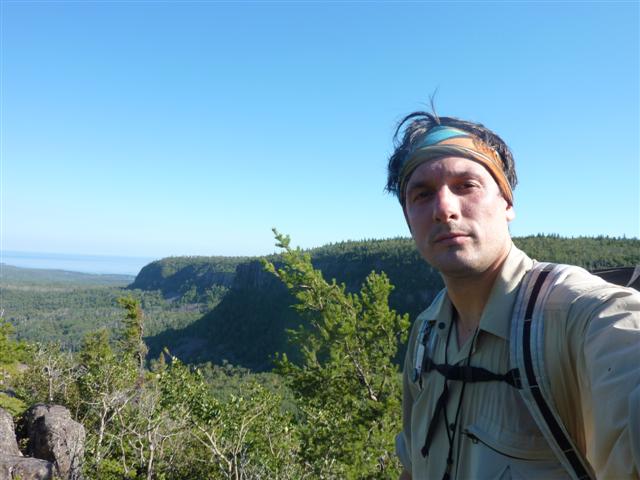 After a few pictures and video, I headed back down to my campsite and prepared for the night. I boiled some water using The TEWB and drank the one beer that I had brought with me. I listened to the boats laughing and talking into the night. By 10pm, my eyes were getting heavy so I jumped under my tarp and into my bivy. I struggled to fall asleep at first but then finally drifted off.
Day #2 (August 28th)
Hiking Time: 8.5 hours
Distance: 18.8 km (11.7 miles)
The night was warm and the morning was perfect. I was up and on the trail by 8:30. I knew today would be the day I reach the southern tip so I was excited to see the terrain. The trail again was relatively flat and mimiced the first day with a forested trail spitting the hiker out every once in a while for a view of the lake. The next campsite along the trail had a nice wooden chair to sit in. I wish I knew as I would have continued on last night!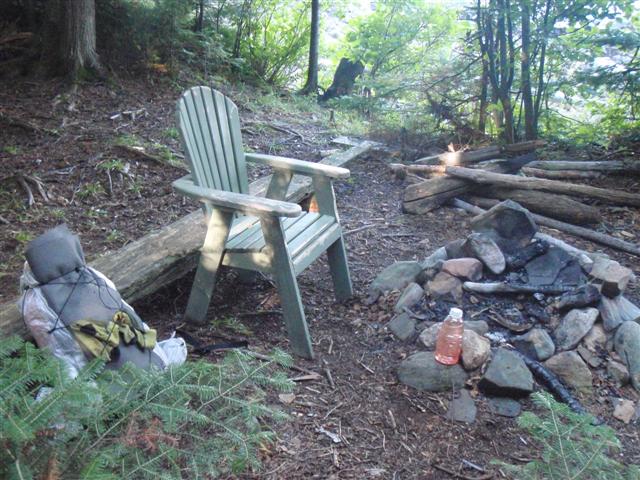 There comes a point in the trail where the high cliffs on the land squeeze you against the waters edge. The bush thickens at this point and I think it is a good time to start making some noise, especially if you are hiking solo, like me. This seems to be an area where wildlife have limited trails to use other then the main trail itself. With that said, it was a great part to hike.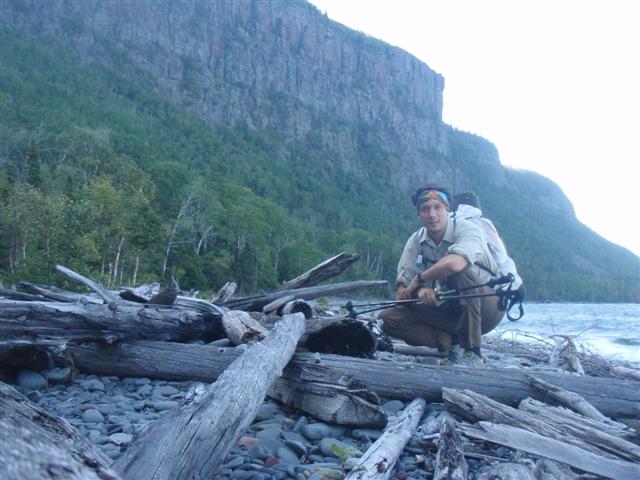 The trail will eventually head up and left to bring you to the junction where the Thunder Cape trail begins. I filled up on water here and snacked on some beef jerky. It was a windy day, so the waves were really crashing hard onto the beach.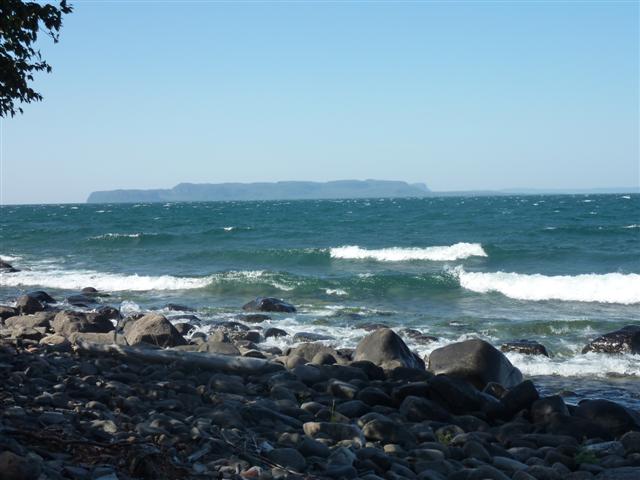 The trail to Thunder Cape is a short one and I was surprised to see that at the tip itself, there is a bird observatory and a large tower that you can climb for some great views. I stopped by the bird observatory and spoke with the gentlemen in charge for a while. Here they trap and tag migrating birds in order to document patterns and what not. I don't have much of an interest or knowledge of birds, but I have a repsect for anyone who dedicates that much time to their cause. Good for them and I wish them luck!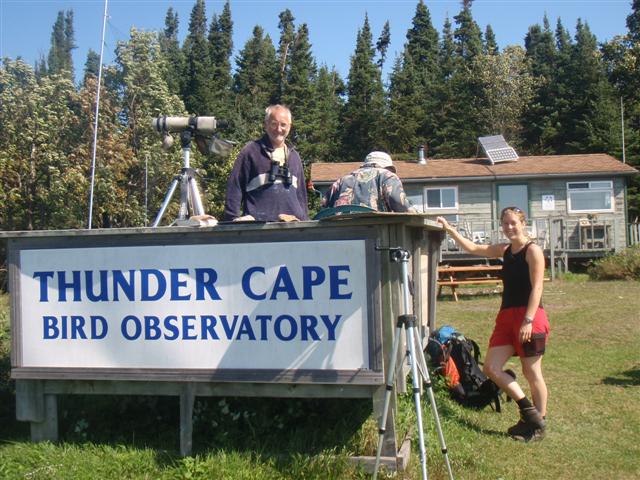 It was at the bird observatory where I learned about a trail in the park called The Chimney Trail. When I looked at the map, it was not on there. The good people there explained that the trail had been closed about 5 years ago but you could still do it at your own risk. They pointed out on the map where it was and I set off in search of it. On the way back to the main trail, I came across the large fire tower and just had to take the side trip up.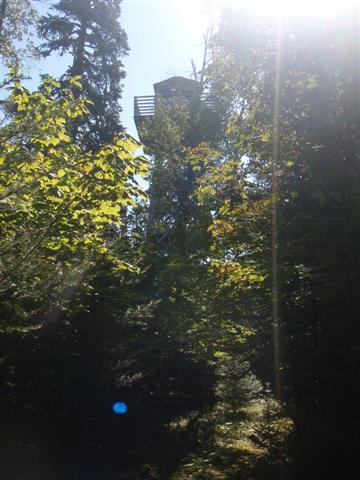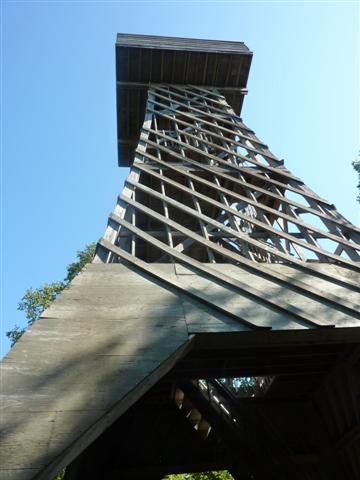 The view from the top is great, but the real cool thing about it is that at the very top of the tower is a small opening that you can climb out and get a 360 degree view. It was windy, so I was a bit nervous hanging out the top, but the experience was great overall. You just have to do this if you are in the park.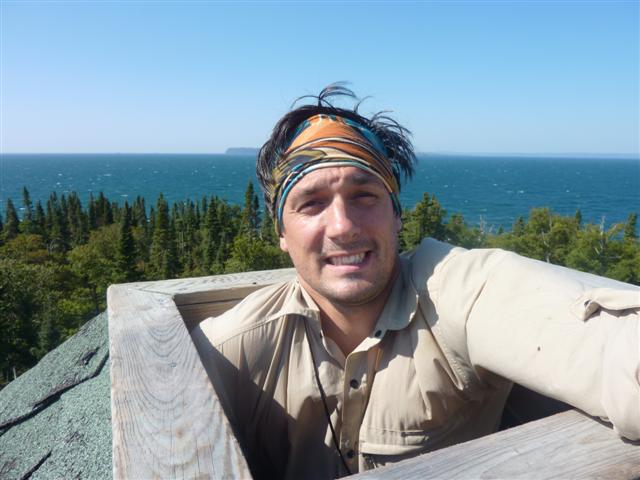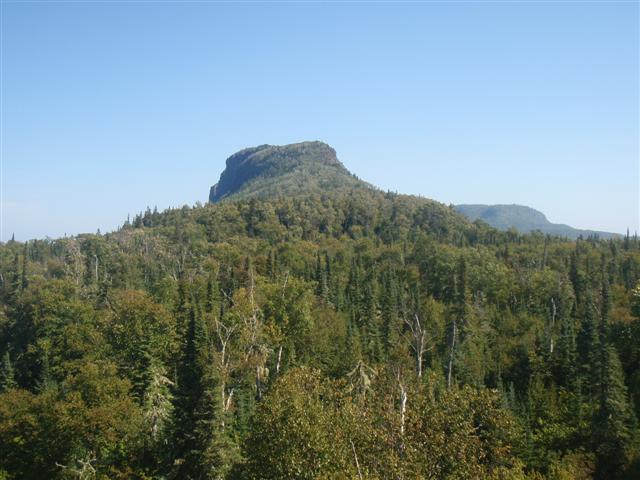 The trail actually gets a bit tougher after Thunder Cape. More and more rocks show themselves and it becomes a bit more aggressive but nothing to worry about. I kept my eye open for The Chimney Trail and I did eventually find it just before the 2 campsites on the south end.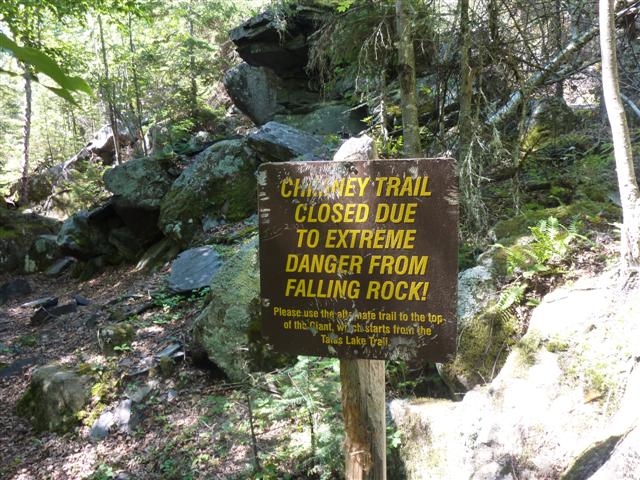 OK, when you see a sign like this, you should turn around immediately…that is my recomendation to you. Of course, I had to at least check this trail out. For the most part, it is a giant crack in the cliffs where a landslide of car sized boulders has rolled and tumbled down creating a rock ladder to the top. I have to admit, it looks as though if one of the rocks budged, the entire area would just start coming down. I climbed slowly and carefully assessing every few minutes if I should continue.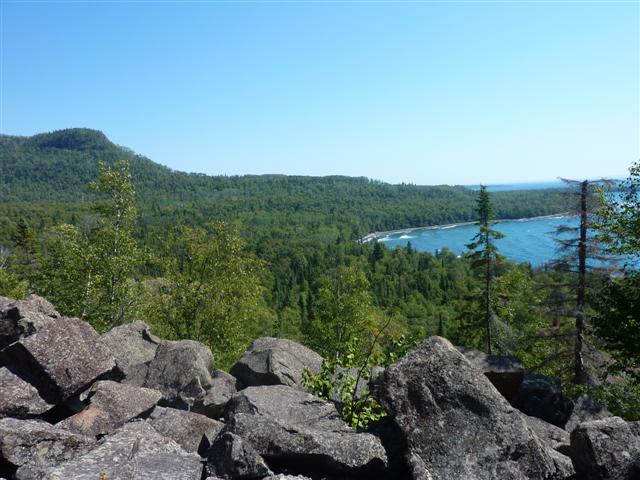 Once you have conquered the large boulders, you have to deal with a bit of scree and loose dirt. This would be a nightmare if someone were in front or behind you so take caution if that is so. The trail is extremely steep and requires the use of both hands and feet. A fall here would result in severe injury to say the least, so be prepared. The very last section of the climb is a rock formation with steps and handles naturally cut into it. It makes it easier to climb up on but still requires balance and co-ordination so be careful.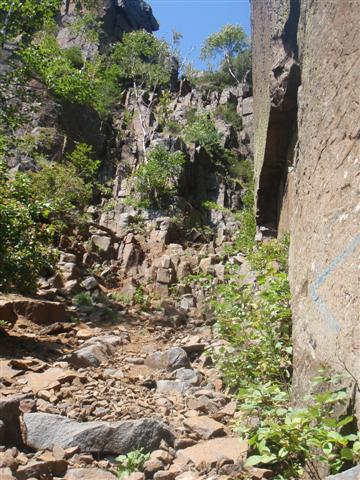 Don't get me wrong, I'm not saying the route in very hard, I just don't want you to think it is a walk in the park. I think a good amount of people would turn around before reaching the top if they didn't have a solid understanding of what they were getting into. Once at the top, you can view the crack that you climb up through aswell as a great view of the lake.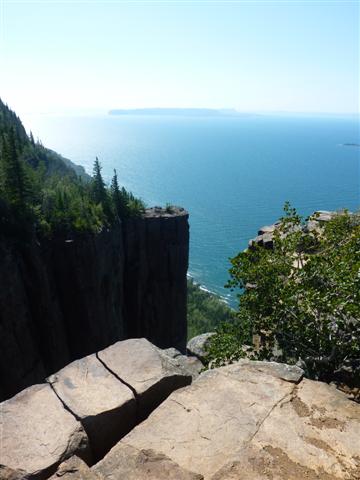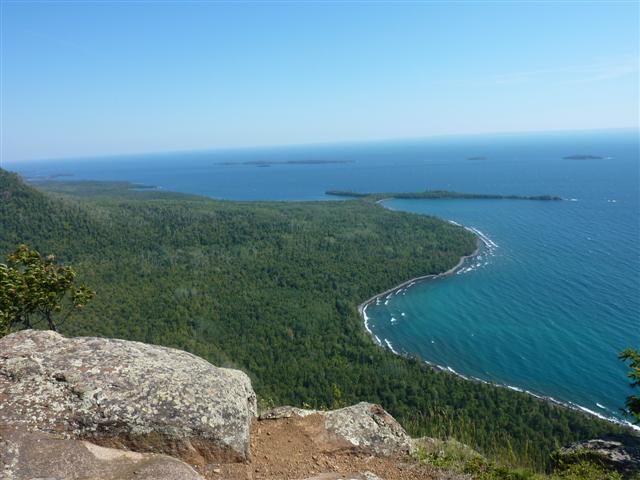 I didn't bother taking The Chimney Trail back down as I thought it was a biut much to go down. Instead there is an alternate trail to the top that is an easy 3 km and takes about an hour. On the way down, the trail brings you out to quite a few look outs that are very nice.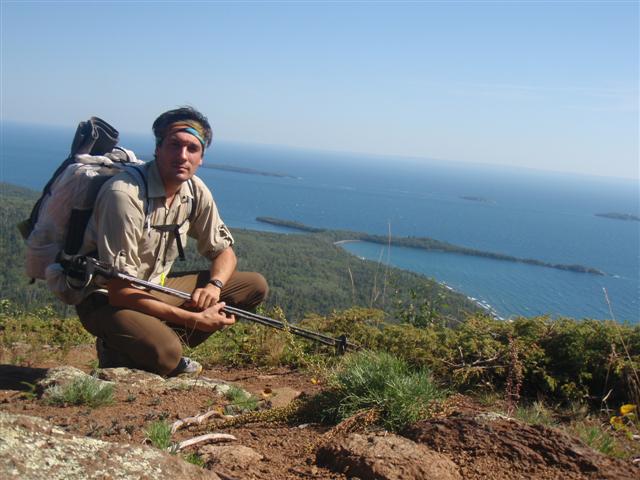 Once at the bottom, I saw a sign that again explained the reason for the new trail. Best to stick to the park rules and just take the new trail.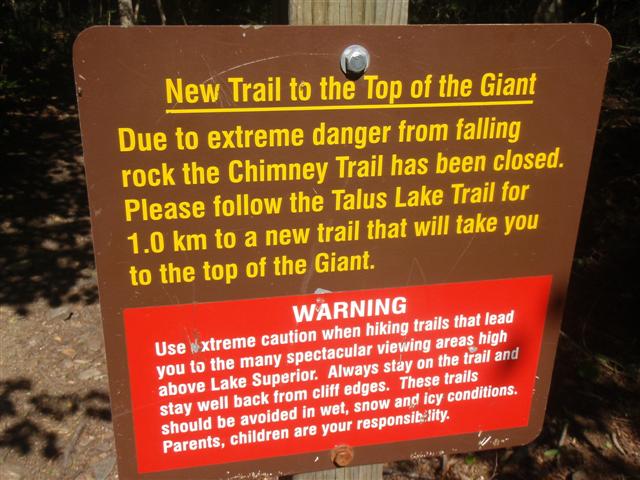 At the bottom of the trail, it was an easy 2 km to get to my campsite for the night. I stayed at Tee harbour which has a few campsites lining the shores. There were already a couple of people there so I was a bit limited as to which site I got, but I picked the one with the most firewood and an axe. Yep, that's right, my campsite had an axe!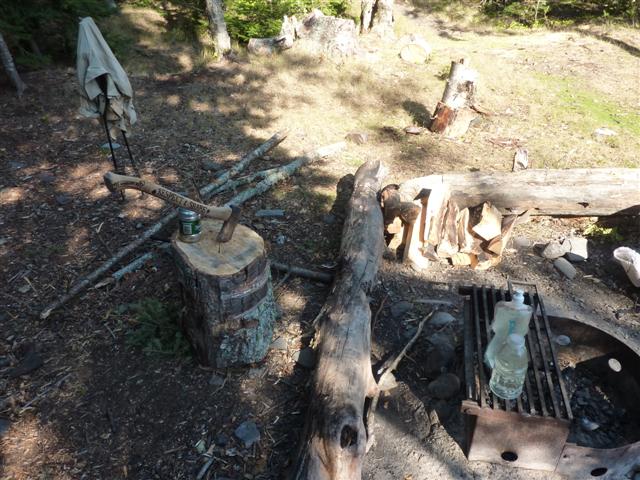 It was still early, but I didn't have any further to go for the day. I spent the rest of the day cleaning up my campsite and preparing for the evening. Not long into my stay a nice couple from across the way stopped by to take a look at the beach by my campsite. They were very nice and very interested in my hike. They really liked my sleeping setup for the evening.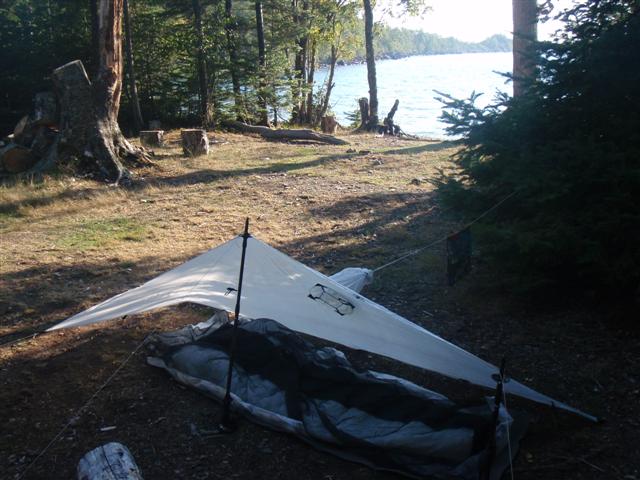 The guy from the couple actually came back about 30 minutes after leaving and offered me a hotdog which I gladly accepted. I thought it was really cool that they did that and I wish them well. I started my fire, ate dinner, and decided to try out my new freeze dried desert. Tastier than you think!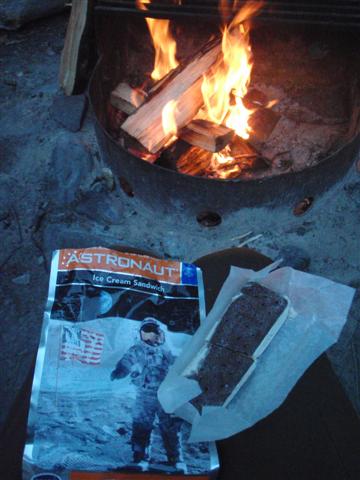 This is where my stay for the night started to get a bit crazy. The sun had gone down and I was just sitting by the fire when I heard a voice from the trail. I turned to greet whoever it was and that is when I met Freddy. A chef who was kayaking on Lake Superior for about a month already and planned to make it down to Sault Ste Marie in the next month. He was a serious backcountry adventurer. He came by because he had seen the axe and wanted to know if he could borrow it. I of course said he could but also offered him to stay and enjoy the fire I had already started aswell as the pile of wood I had cut. He accepted and took a seat.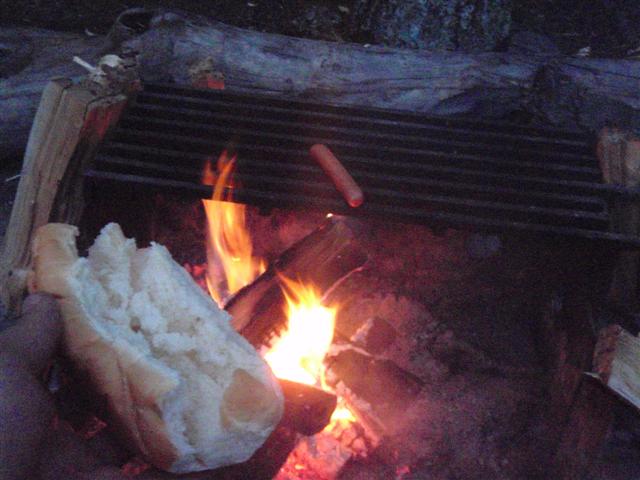 The night was in full effect and the only night was the one coming off the fire. We were conversing about gear and trips when a horrible noise came out of the woods just in front of us. We both stood up a bit freaked out but it took a few seconds for our eyes to adjust and by then we saw nothing. The noise was something I had never heard before and we were both a bit shook up from it. As we sat back down, Freddy heard something behind us and then another noise from in front. We got up and headed away from the fire so we could see what was going on. It was deer, a bunch of them. They were sneaking up on us for whatever reason, and they were coming very close. Too close for comfort. To make a long story short, this went on for an hour or so and we decided to move campsites figuring that they would stay at this site.
I set up on the other side of the bay where Freddy was staying with his kayak. Again, the deer were coming around but I eventually just closed my eyes and assumed that the worst they would do is lick my face or nip at my clothes. I was fast asleep.
h3>Day #3 (August 29th)
Hiking Time: 12.5 hours
Distance: 34.6 km (21.5 miles)
Well, I was awoken in the early morning by the shriek like no other. At first I didn't say anything, just listened. I heard it again and again. Sounded like something was dying. I looked at my watch and it was just after 5am. It was then that I heard a girl scream "Help, Stop…Stoooop!". OK, that was it, someone was in trouble. I hopped out of my bivy and woke Freddy up. He was already awake and was like "What the hell is going on!". I put my shoes on, grabbed the axe and headed towards the noise thinking I would come across a girl being attacked by something. I met another hiker along the way who was also going to investigate. By the time we got to the noise, it was clear that it was not an attack. What had happened was one of the campers closer to the mainland went to bring their dog to the bathroom in the night. A porcupine showed up and a fight ensued between it and the dog. Poor dog didn't know when to stop and took on some serious damage, while traumatizing the little porcupine. I headed back to camp and by now there was no point sleeping, I just packed up my stuff and headed down the trail as soon as the sun showed up. I got a really early start.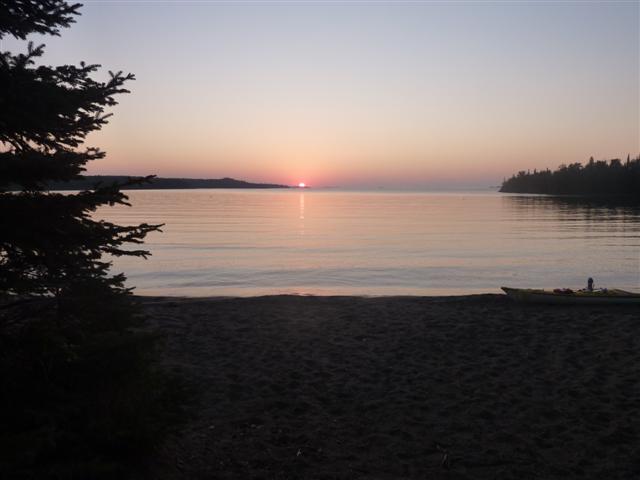 The trail from Tee Harbour is essentially a old logging road and you can cover alot of ground here. Shortly after leaving my campsite, the sun was up and I came upon a small little rabbit grabbing a snack to eat on the trail. The animals here seem very bold and I was able to get pretty close before it took off into the woods.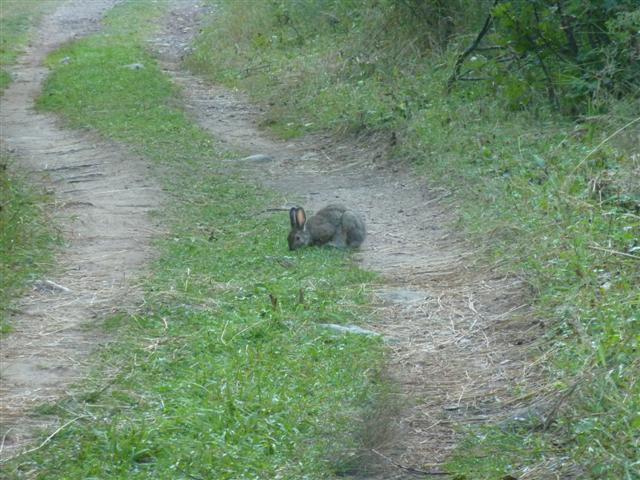 Probably within an hour or so I had reached what is called the Sea Lion. This rock formation is slightly eroded now with part of it falling off many years ago but still quite an interesting site. I made the side trip to snap a few photos of it.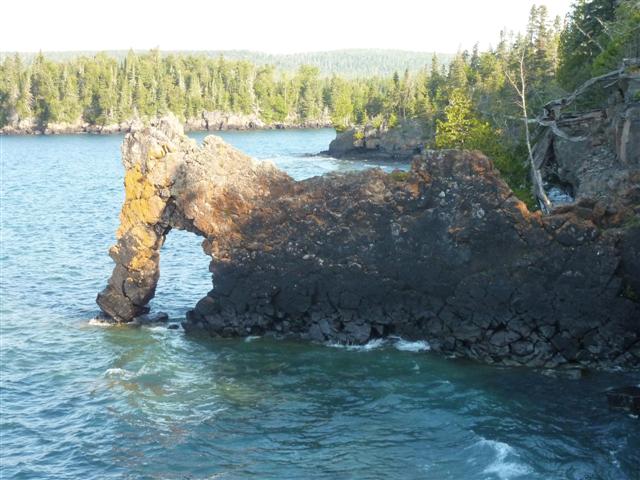 The end of the Kabeyun trail is not far from here. I was actually supposed to turn up another trail before the end but because I wanted to officially complete the Kabeyun Trail, I hiked to the end and snapped a picture and then backtracked to continue my hike along the Sawyer Bay trail.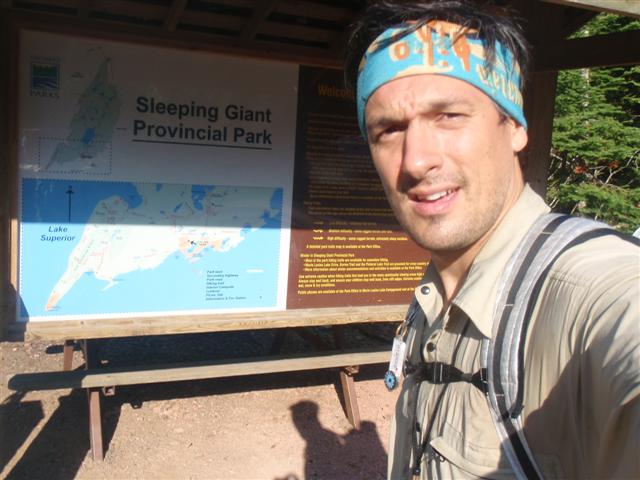 At this point I have a lot of ground to cover in order to make it to the Burma Trail. Part of my day will be spent walking the roads of the park and the Sawyer Bay Trail is actually just a dirt road. Not ideal for a hiker, but it allows some of the cyclists to make it out to the lake and camp which I guess is a good thing.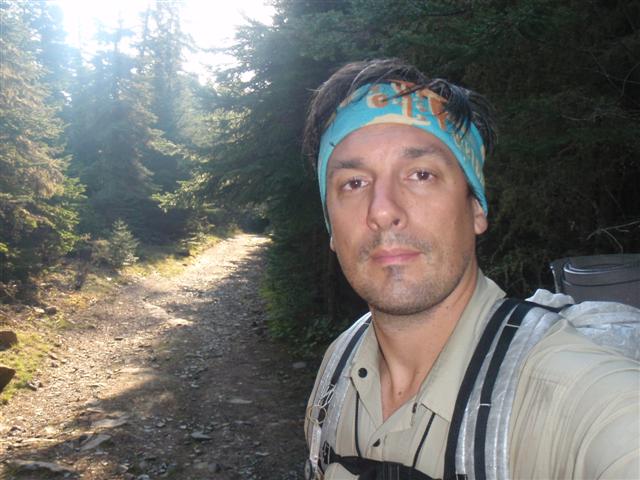 HIking on the road was less then spectacular. I just put my head down and hammered out the miles to get back in the woods. I passed some car camping spots, very nice ones, and decided to stop for lunch there. I made some freeze dried veggies and didn't realize until afterwards how tired I was. I guess I didn't get very much sleep last night. I took my shirt off, layed my sleeping pad on top of a picnic table, and fell asleep for a little over an hour. I woke up to the noise of people setting up camp next to me. They didn't pay much attention to me but I quickly got up and tried to look like a normal person instead of a bum sleeping in the woods. I packed up and began hiking the road again. When I did reach the Burma Trail I was a bit dissapointed to find that it was a very wide logging road aswell. I started to wonder if I should even bother continuing along it or if I should cut back to the Kabeyun Trail.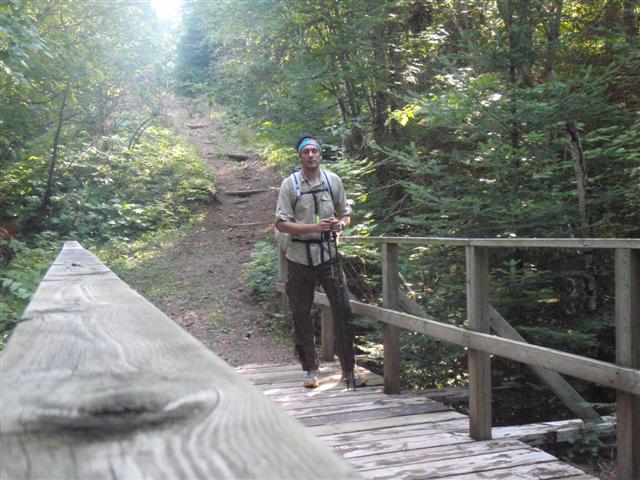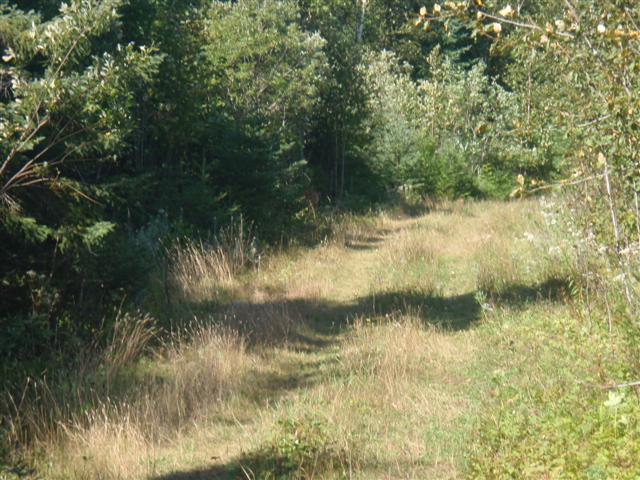 My plan was to stay on Twinpine Lake for the night and then hike back to the Burma Trail to continue in the morning. I reached the junction for the cutoff and hiked until I found the first campsite. It was completely overgrown and unsuitable for a tent of any size. The map showed another one not far ahead so I decided to continue. I don't know what happened but I somehow didn't even see another campsite. I walked forever and realized that there is no way it could be that far. This is when I made the decision to continue along Twinpine Lake Trail back to the Kabeyun Trail and stay at the campsite on the junction of the two trails. I arrived at the campsite at about 5 pm, filled up with water and broke out some food for a snack. I had already hiked very far today so I needed to rest my legs.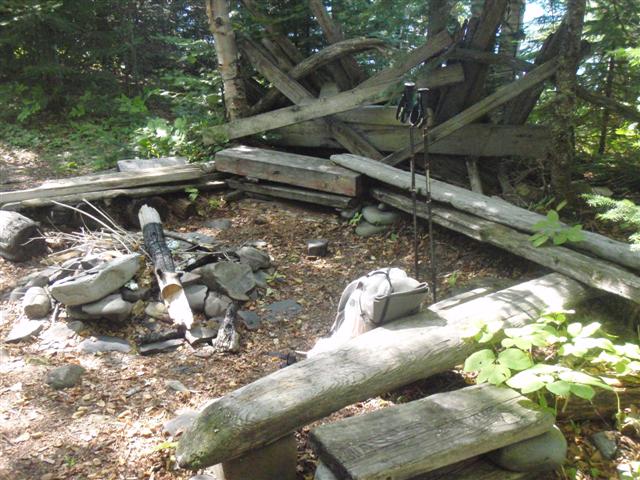 I was tired, hot, and a bit hungry, but after looking at the map I concluded I was roughly 3 hours from my car. When I added up the mileage for the day, I found that if I pushed on to the car today I would actually pull off over 20 miles in one day. This is something I had not done before and now I was curious if I could do it. I figured I had at least a good 3 solid hours of sunlight and then dusk would allow me to hike into the evening a bit if I needed to. I rested for about 15 minutes and set off for the end of the trail. Being that this section of the trail was familiar to me because I had hiked it a few days ago, I didn't bother taking any photos. I simply backtracked all the way to the car. By the time I got there, I was absolutely wiped. My legs, feet, and back were burning and I could barely get into my truck. I changed out of my clothes, threw my gear in the back and mentally prepared for a terribly long drive home. On my way out of the park, I fox started to trott along side my car stopping every minute or so to mark his territory. I tried to take an action shot but it didn't turn out too well.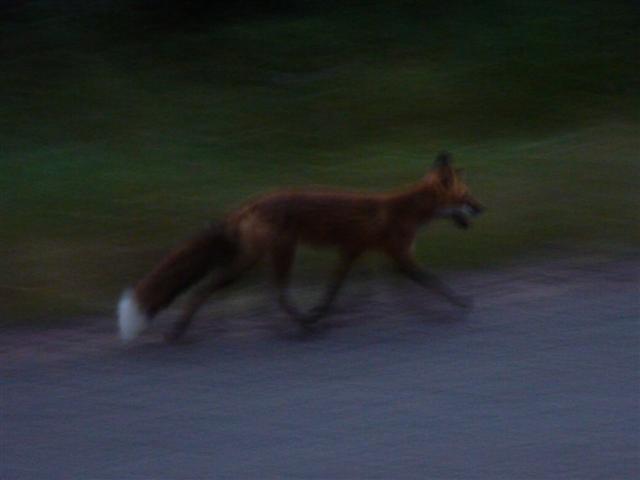 I officialy left the park at about 8:30 pm and started my drive home. Within a few hours, I was ready for bed. Instead of setting up any of my gear, I just pulled over at a rest stop and fell asleep in the back of the truck.
Driving Day (August 30th)
Driving Time: 16 hours
Distance: 1367 km (850 miles)
I woke up at 4:30am and hopped back into the drivers seat. The drive home was just that – a long tiring push. I pulled into my garage later that evening and while the drive was probably just as hard as the hiking, I had a great time and highly recommend the park to anyone heading up that way.