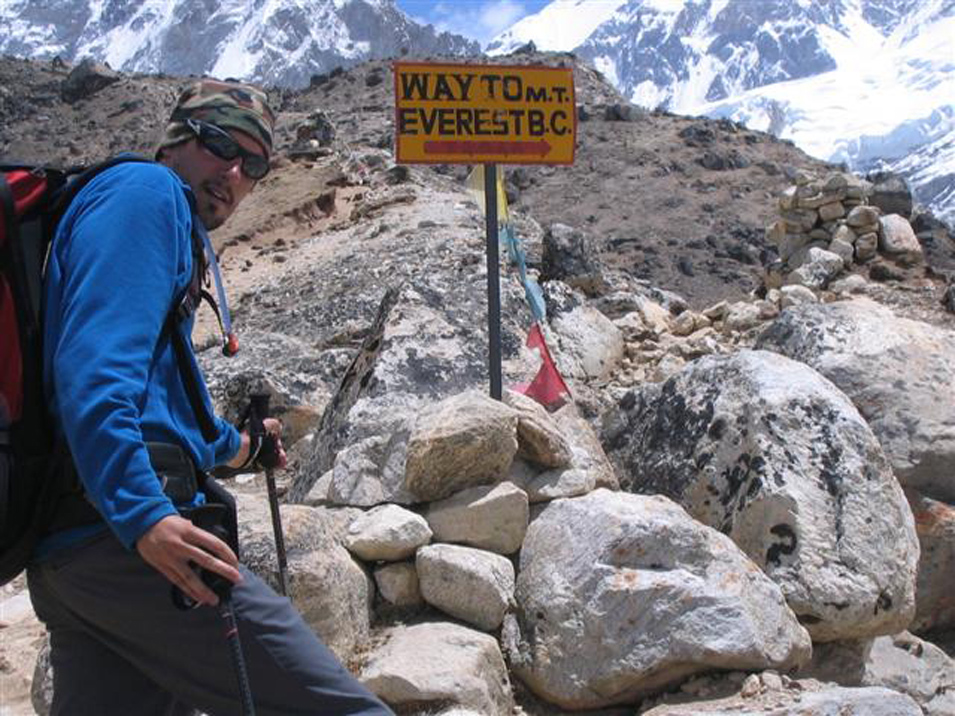 NEPAL
EVEREST AND GOKYO REGION, MAY 2007
May 9th – May 24th
16 Days
Altitude: 1370 meters
to 5364 meters
The Everest Region consists of many trails leading through the Himalayas. My trek would take me up to Everest base camp, back down and over the Cho-La Pass, and then up and down the Gokyo Valley. I had anticipated this to take roughly 21 days, but ended up making very good time on some sections. While it is possible to do this through a tour or using a guide, I opted to just buy a map and head up myself. There are a lot of people doing it both ways and neither is the "better" way. It really just depends on personal preference.
Below is a general map of the area. You can refer to it as you read the trip report to see where I am. Hopefully this will give you a better idea of the route.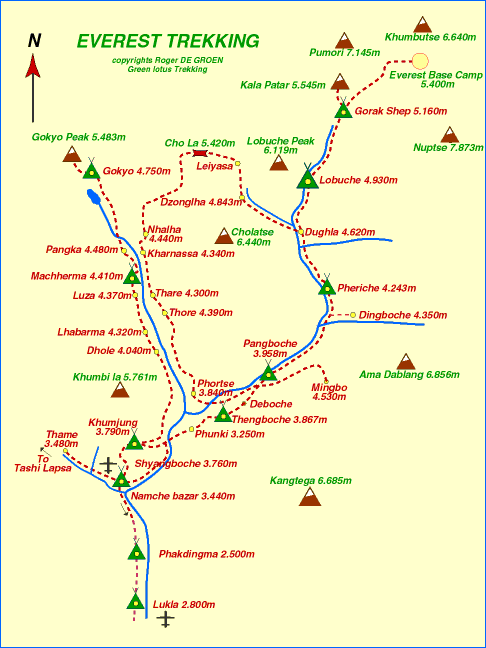 I'll skip all the drama involved in flying from Canada to Nepal. But if you ever go, expect it to take you about 24 hours in travel time and most likely a stopover in India and another in Katmandu before reaching Lukla. By the time I got to my hostel in Nepal, I was absolutely wiped…but that's part of the fun!
Day 1 (May 9)
Katmandu (1370m) – Lukla (2840m) – Phakding (2610m)
I've been staying at the Pilgrim's Guest House (highly recommended!) for the last 2 nights preparing for my trek. My alarm sounds at 4:30am. It's hard enough to get up at that time when you aren't suffering from jet lag! I have a quick shower and get all my stuff ready for my flight to Lukla. I take a cab to the airport at 5:15am and am taking off by 6:30am. The view on the flight is quite nice. When we are preparing for landing in Lukla, I can't help but notice that the runway angles up (like a ramp) and there is a brick wall at the end…apparently, to help stop the plane.
When we disembark from the plane, I can immediately feel the altitude. It's tough to hike fast, and the fact that I am a little disoriented doesn't help much.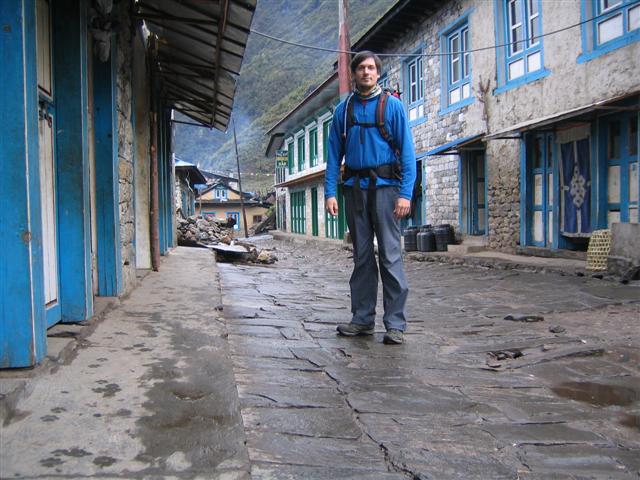 I ask around for the general directions to Phakding and someone points me in the right direction. It's an easy 2 1/2 hours and I arrive at Phakding at about 10:30am. I get a room for 100NRS that give me a private room. The temperature is very hot in the sun, but quite cold in the shade. I lay down at about 3pm to have a nap but end up sleeping for 3 hours…not a good thing when you are trying to overcome jet lag. Ate some potatoes and cheese for dinner and hit the hay at about 10pm. I had a restless night.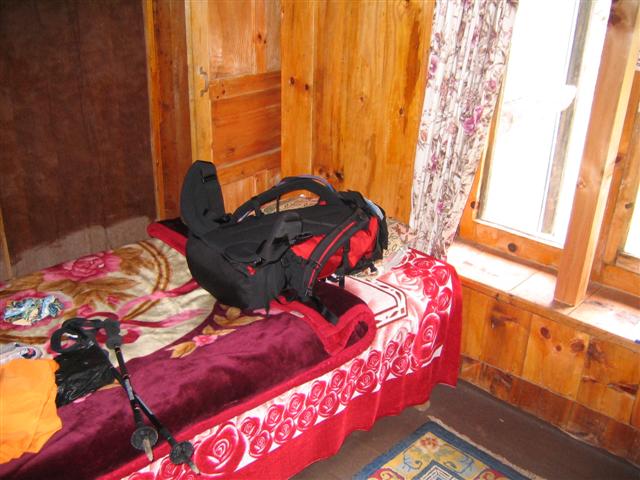 Day 2 (May 10)
Phakding (2840m) – Namche Bazaar (3440m)
I wake up at 5:30am. I didn't sleep too well, but hopefully tonight will be different. I eat Chapati and Jam (kinda like jam on a pita) for breakfast. I am on the trail by 7am. Today was, in my opinion, a very strenuous 5 hours of hiking to get to Namche. I ran out of water about an hour from the top of the big climb to Namche and honestly thought I was going to die. I really struggled, but finally made it. I don't know how these guys do this everyday!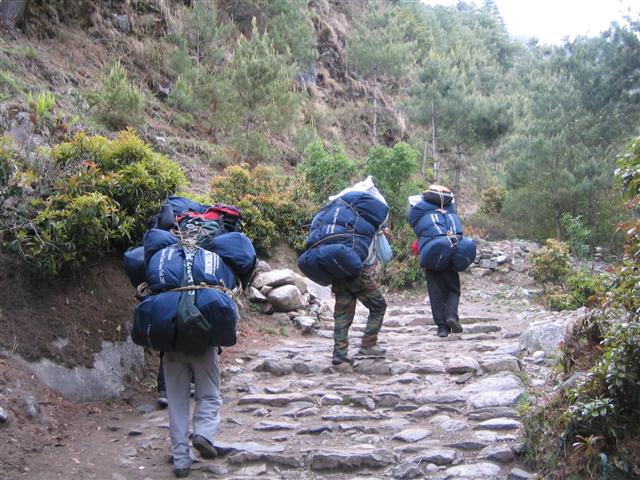 I chug a few liters of water and eat a Yak steak for lunch. I stay at the Khumbu Lodge for 100 NRS.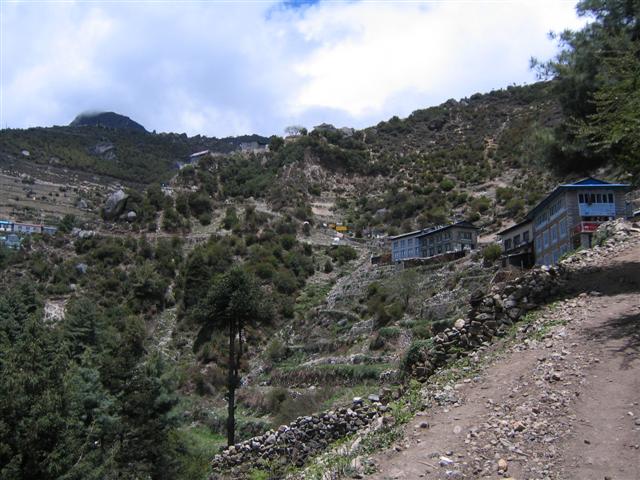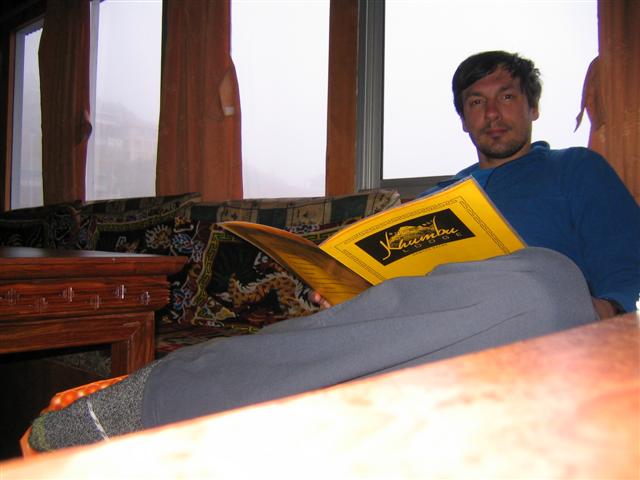 I washed up a bit and went for tea with some people that I had met. A nice couple from Australia and a few friends from Calgary. I'm back at the hotel for dinner, eat some fried noodle with veggies and meat for dinner. It's off to bed by 8:30 for me.
Day 3 (May 11)
Namche Bazaar (3440m) – Namche Bazaar (3440m)
Today was an acclimatization day. The point of days like this is to stay at the altitude you are at in order to give your body time to adjust to it. It is recommended that you go for a hike to a higher elevation and then back down to the original elevation to sleep. The term is "Climb High, Sleep Low".
I am up at 5am. I really didn't sleep much, but it was better then my last. My clothes are still wet from the little washing that I gave them yesterday so I hung them out the window in hopes that they dry faster. Today I visited the Sagamartha National Park head quarters and the Sherpa Museum. A crashed helicopter sits on the upper part of the village.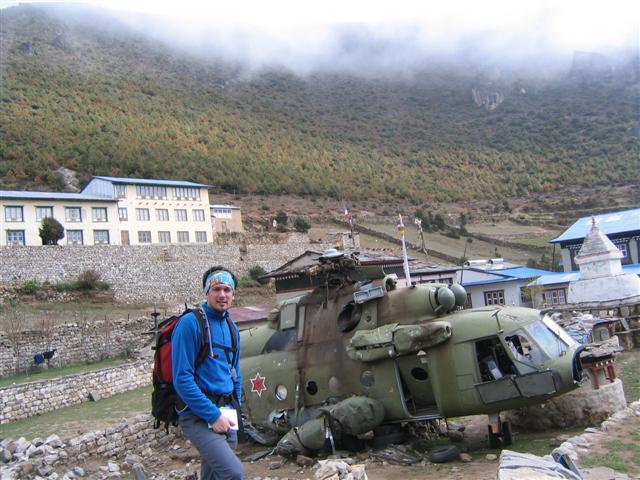 The temperature really started to climb so I went back to my room and put on my wet clothes. I tried to go for a quick climb up to Gongo Peak, but the weather turned a little nasty and I definitely didn't pick the easiest route, so I headed back down.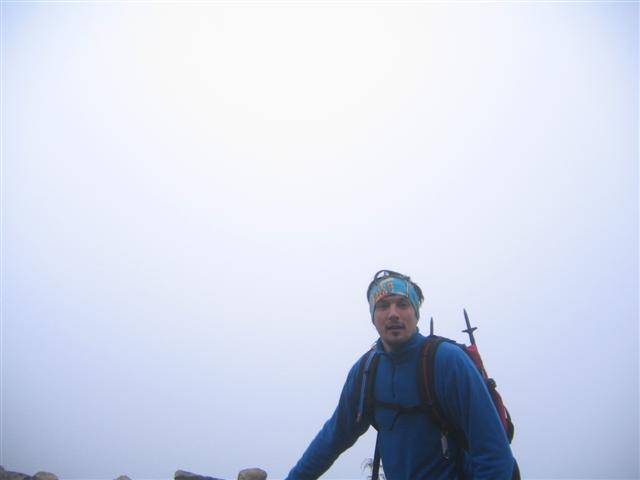 I ended up having some tea in Syanboche on my way down and then headed further down to Namche. I again had some tea with my Australian friends and ended up purchasing some fleece pants and a top. I charged my camera batteries and went for dinner. I met some very interesting people at dinner. There was a gentlemen that I ended up talking to that was actually sponsoring an expedition at the time. He was there just for the trip to base camp but was being escorted by a lady named Lydia. After some talking, I find out that lydia is actually Lydia Bradey! The first woman to summit everest without oxygen in 1988. Very cool. I even googled her afterwards to verify, yep, it's her!
Off to bed at around 11pm.
Namche Bazaar from above.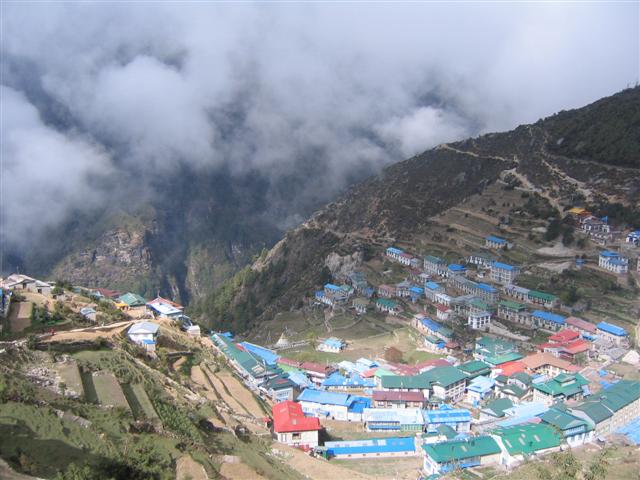 Day 4 (May 12)
Namche Bazaar (3440m) – Khumjung (3780m)
Again I am up early, about 5am. But I stay in bed rolling around for another hour or so. I modify my homemade sandals by adding elastics and go grab some breakfast at about 7:30. After breakfast, I pack up and hit the trail for 8:30. The trail is very steep and quite exposed. I get a bit nervous. When I reach the upper portion, I am told I took the hard way…oh well.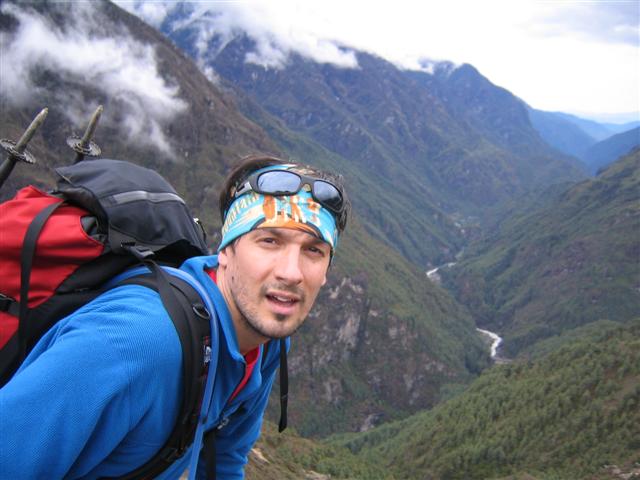 A quick stop at the Everest View hotel for some hot cocoa and I am back on the trail. It takes me about 3 hours to get to Khumjung. I can't go any further for the night, it will be too high. I stay at the Hidden Village Lodge which is quite nice. Price is the same 100 NRS that I have been paying so far.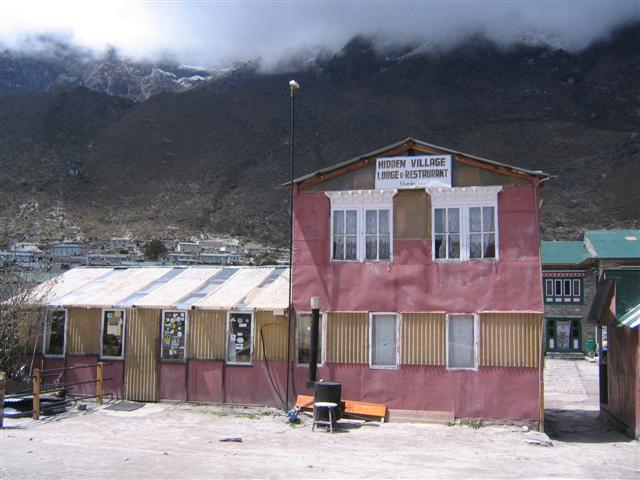 The Aussie couple is staying here too, which is nice. But, I have an upset stomach. Not sure what it is but something isn't sitting right. I have to visit the bathroom frequently. I have some soup and go to bed at about 9pm in hopes of feeling better the next day.
Day 5 (May 13)
Khumjung (3780m) – Tengboche (3860m)
I'm up at 6am. I grab some pancakes and hot cocoa for breakfast. I look outside and the isn't a cloud in the sky. I have a beautiful view of Ama Dablam and Congla.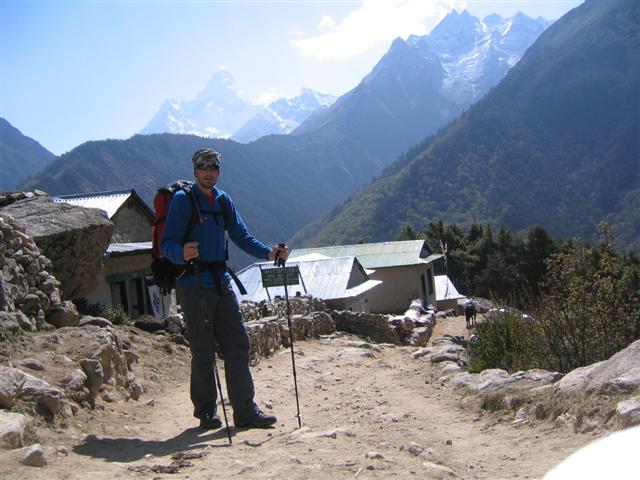 I'm on the trail shortly afterwards and it's a tough 4.5 hours to get to Tengboche. The sun is roasting the back of my neck. I end up staying at the Tengboche Guesthouse for 100NRS. I grab a veggie pizza for lunch (how funny is that?) and eat it while chatting with a nice couple from the UK.They are on their way down and tell me to expect some very cold weather – I'm prepared for it. I climb a little mountain off to the side and visit the monastery in the village to see the monks ceremony. I donate 50NRS to their cause.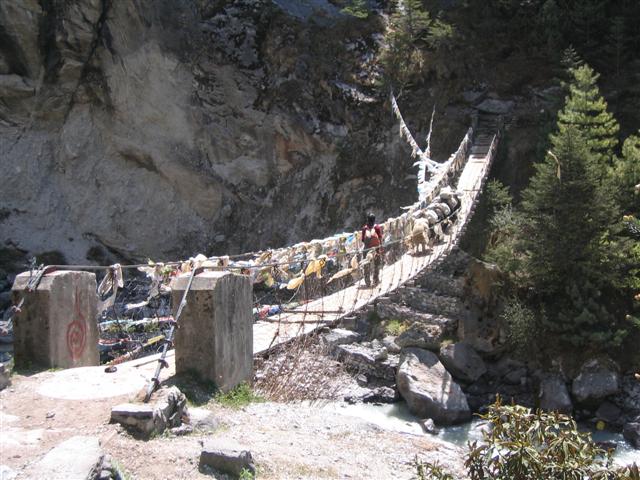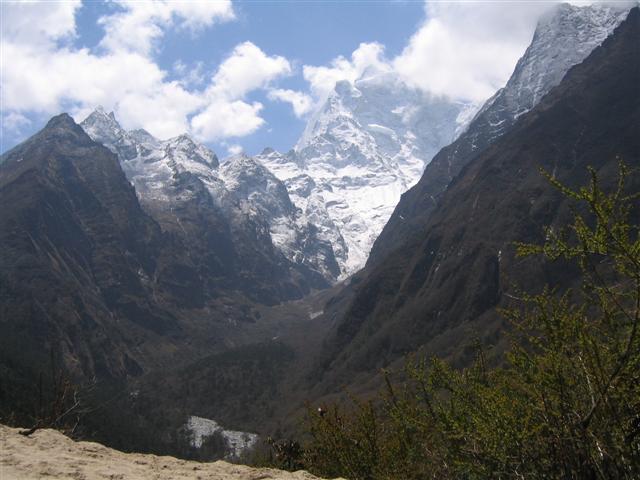 Suddenly, I feel very ill. Something is wrong and I have to rush to the bathroom. A major headache and stomach cramps follow. I don't finish my dinner and just lie in my bed. The lady who operates the guest house actually comes to make sure I am OK. She sees me and goes to get a doctor who is on one of the treks. He tells me to take some cypro the next morning if I don't feel any better by then. I try to sleep at 10pm.
Day 6 (May 14)
Tengboche (3860m) – Dingboche (4410m)
I am sick all night and struggle to settle my stomach. At 5am I take the cypro like the doctor advised and fall back asleep. I wake up at 9am and get out of bed. I am feeling better, but still woozy. I think I am dehydrated. I am nervous that I will be too sick to continue. I have a chapatti and tea and pack up my gear. I figure I will try to get to the next village and see how it goes.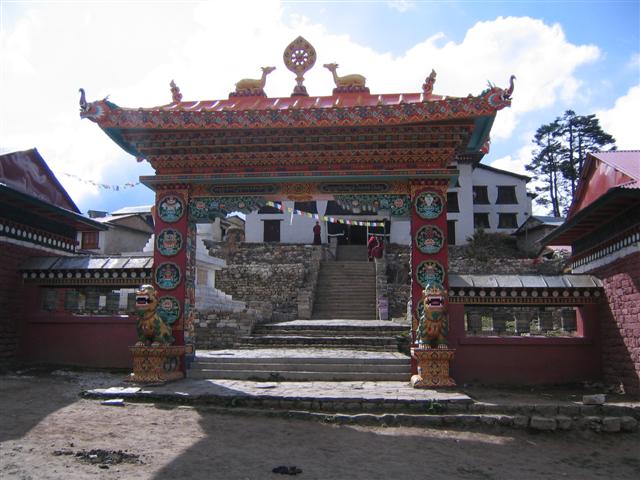 I leave at 10:15am, stop by the monastery and grab some fried rice and arrive at Dinboche just after 3pm. Again, today was a tough 5 hours of hiking. I am staying at the Friendship Lodge for 50NRS. I am still feeling funny, so I pound back about 3 liters of water to flush my system and a plate of steamed rice. I end up meeting a group of trekkers here.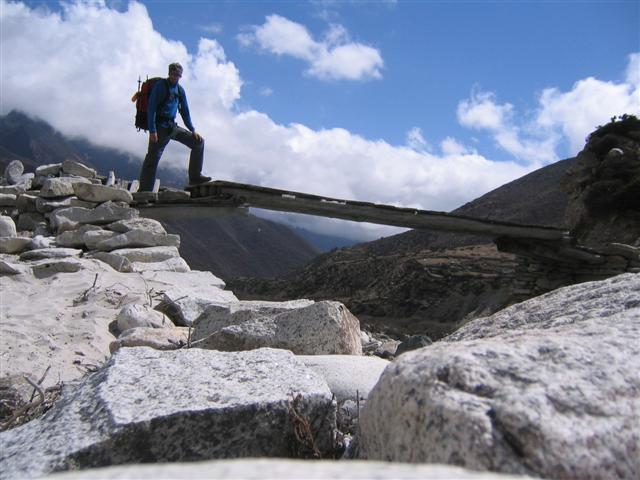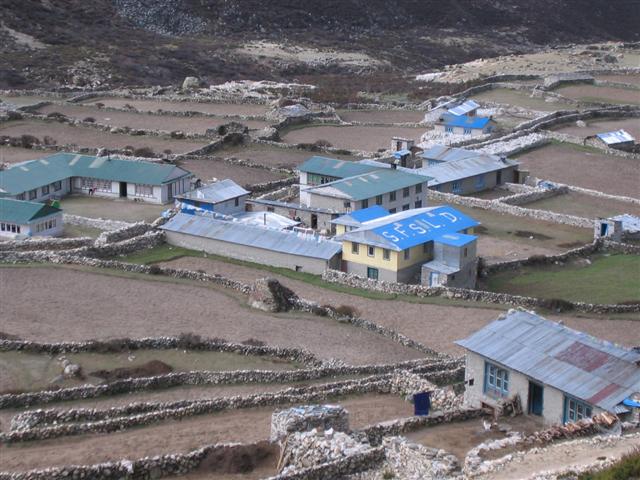 They have payed to be guided to base camp for 3000 USD. I tell them how much I am paying for food and accommodations and one of the younger guys freaks out a bit because he thinks he has paid too much for his guided trek. I don't want to get involved and head to bed at about 10pm.
Day 7 (May 15)
Dingboche (4410m) – Dingboche (4410m)
At 6am, I am awake and begin to pack up for my climb of Chukung Ri. I have a tea at the lodge and I am on the trail by 7am. It takes me about 2 hours to get to the village of Chukung. I stop there and fill up on a chapatti and to fill up on water.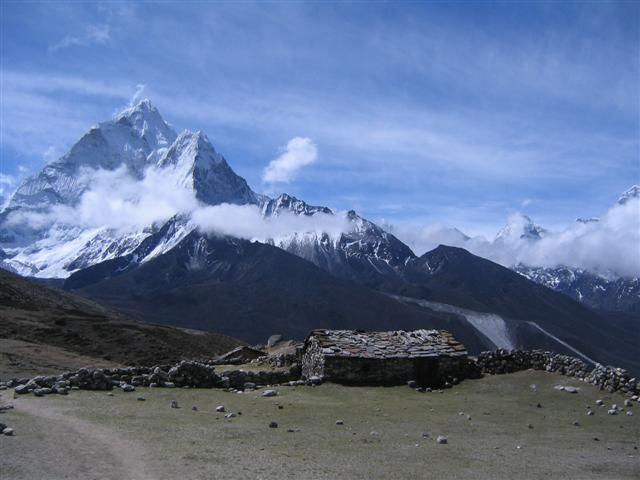 It takes me 3 absolutely brutal hours to ascend the false summit. The altitude is killing me and I can't take even 10 steps without stopping to catch my breath. From Chukung Ri, I see the south face of Lotse and I am fortunate enough to see a nice big avalanche just to the right. Wow, they are loud.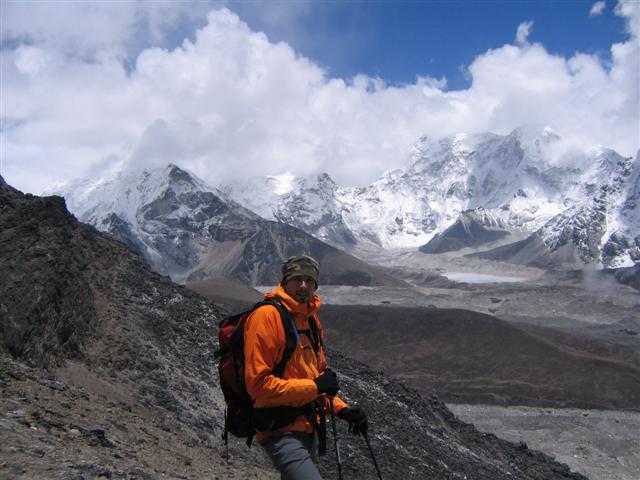 I start to panic that I am running out of water and haven't even made it to the top yet. 100 meters above is the true summit but I am exhausted at this point. I decide to turn around while I still have the energy.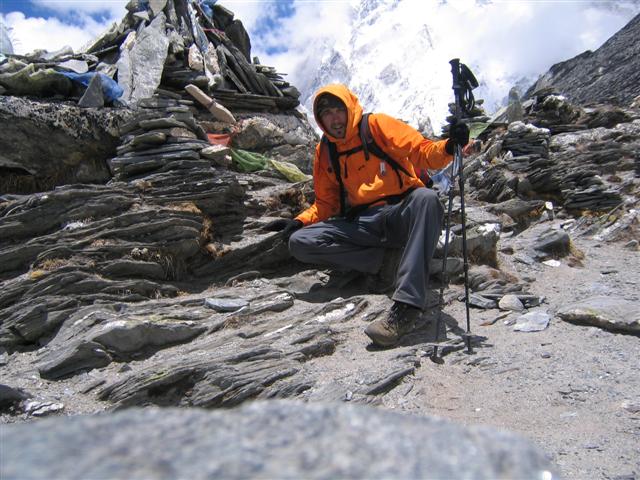 From the top, I get a beautiful view of the surrounding terrain.
I stop in Chukung in the way down to grab some friend potato momo's and find myself back at the lodge by 5pm. I look at my map and it states that one should not attempt Chukung Ri on the way up as the altitude will make it too difficult…hmmm, no wonder. A quick dinner and it's off to bed for me.
Day 8 (May 16)
Dingboche (4410m) – Lobuche (4910m)
I woke up at 6am and am feeling good today. No more stomach issues and I guess my hike to Chukung Ri really helped with acclimatizing. I take my first shower in a week and learn why that it a bad idea very quickly. Imagine taking a hot shower and then having to get out into freezing weather…yeah, my entire body, even my hair froze. Won't do that again. Today seemed somewhat easier with only 4.5 hours of hiking.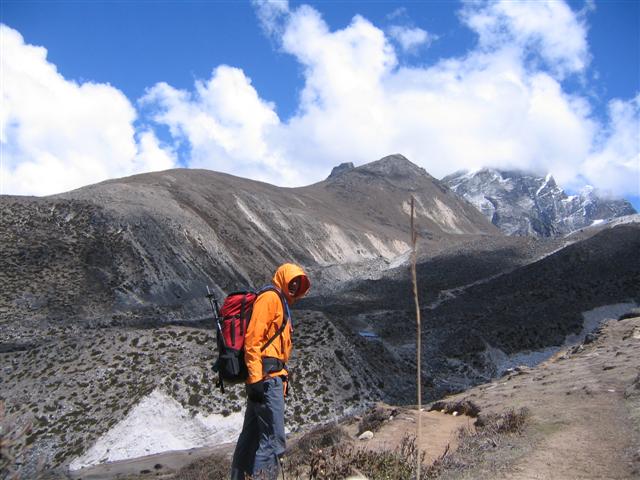 On the way I met a man training for the everest marathon. Apparently, he placed 1st in 2005 with a time of 3 hrs, 42 min (Basecamp to Namche).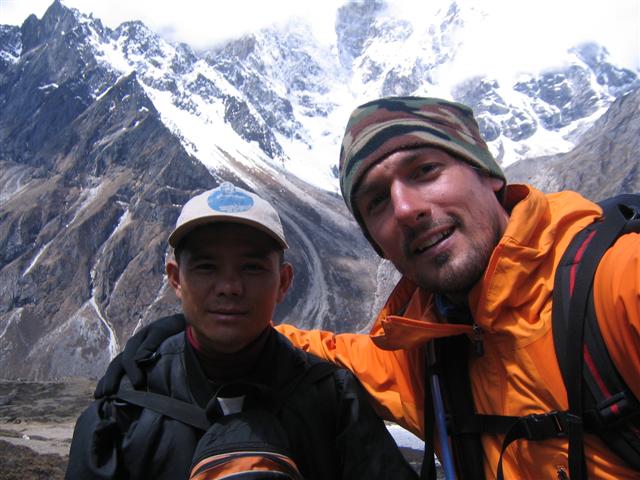 I arrive in Lobuche and stay at the Sherpa Lodge for 200NRS. I feel pretty good except now I have't gone to the bathroom since Monday…if it's not one, it's the other! I am in bed by 8:30pm and end up charging my camera battery here for 300NRS per hour.
Day 9 (May 17)
Lobuche (4910m) – Everest Base Camp (5364m) – Gorak Shep (5140m)
An early morning at 6am and some tea before leaving puts me on the trail nice and early. Last night I have my first bout with periodic breathing. This phenomena basically means you stop breathing while sleeping and wake up gasping for air. The feeling is horrific and you feel like you are going to die. It was a tough night.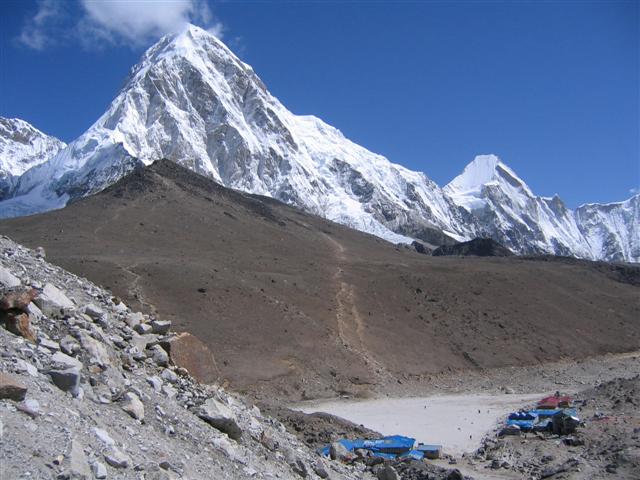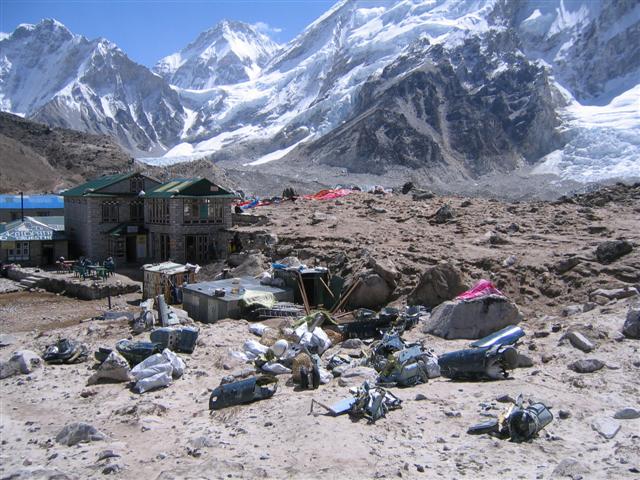 A helicopter had actually crashed at basecamp some time ago and the Sherpas were taking it down the mountain…I snapped a picture because I figured people wouldn't believe it!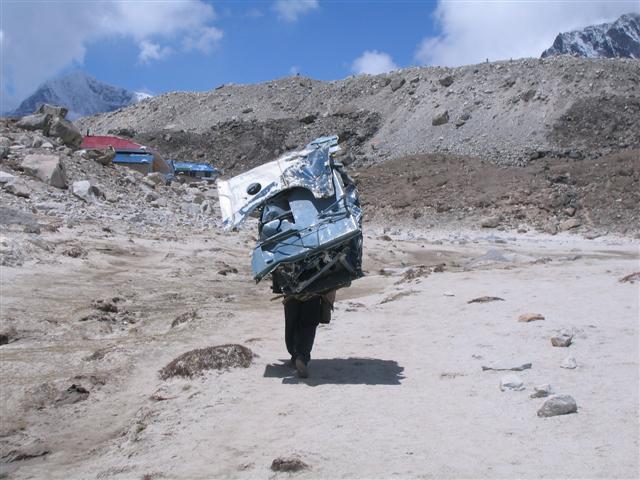 It takes me 3 hard hours to get to Gorak Shep. I unload my gear and head to everest base camp right away. It takes me another 3 hours to get to base camp from Gorak Shep.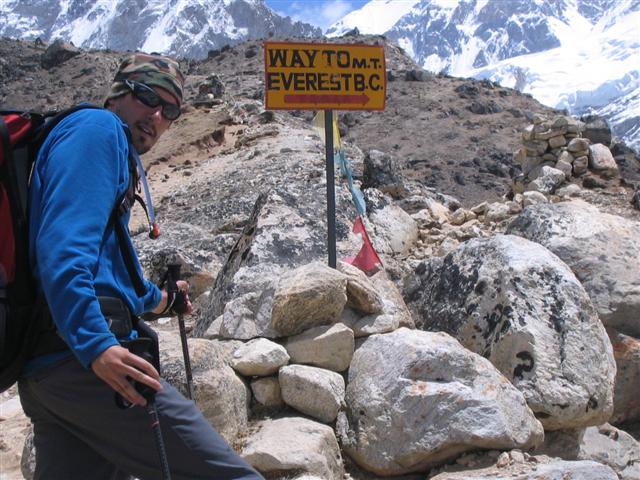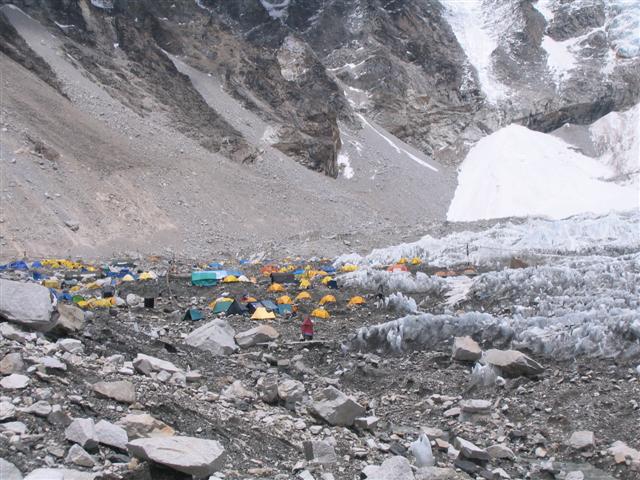 I take a bunch of photos, grab some cookies and tea at the Basecamp bakery. I try to get to see the Canadian expedition but the place is a zoo, it's starting to snow and the sun is going down.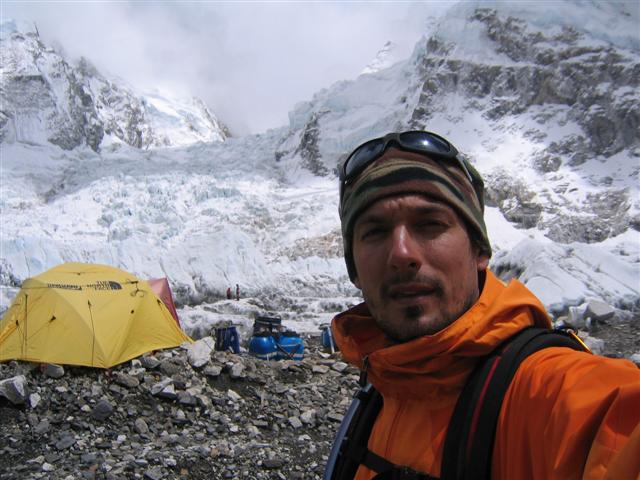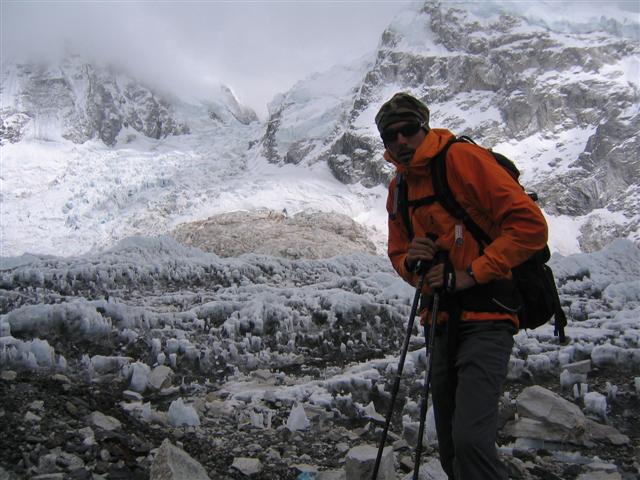 I decide to head back to Gorak Shep which takes about 2.5 hours. I wash up a bit, have some dinner with a Scottish Couple and an Englishman named Tony before heading to bed at 8:30pm.
Day 10 (May 18)
Gorak Shep (5140m) – Lobuche (4910m)
I set my alarm for 4:30am. Today I will climb Kala Patar. The altitude is already killing me and I don't get much sleep.
<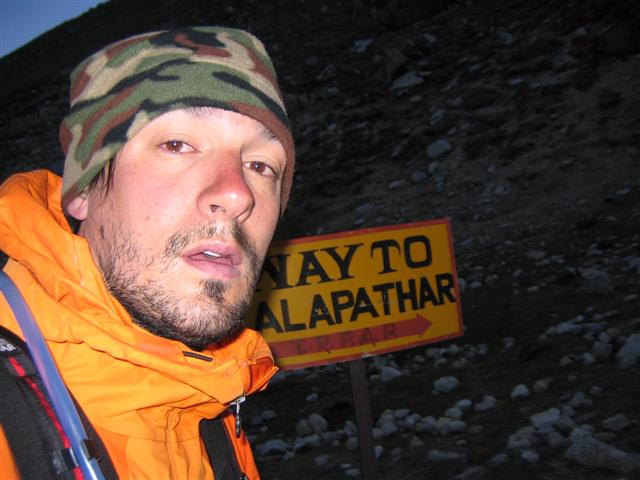 I leave for the trail at 5am and it takes me a solid 2 hours to reach the top. The views are spectacular and I get to see the sunrise come up from behind Mount Everest.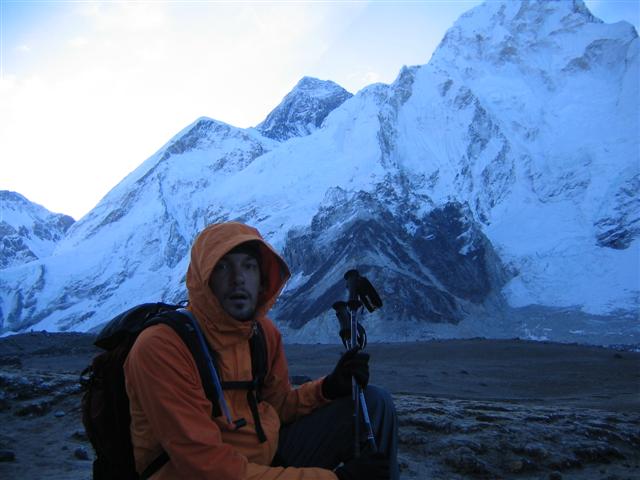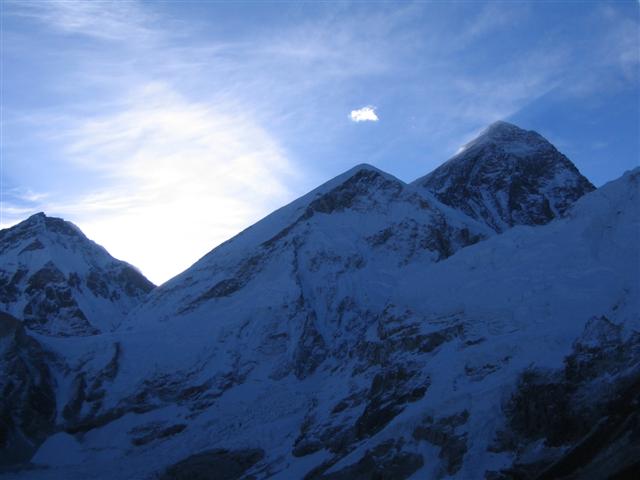 I had a fellow hiker take this picture of me on the top of Kala Patar.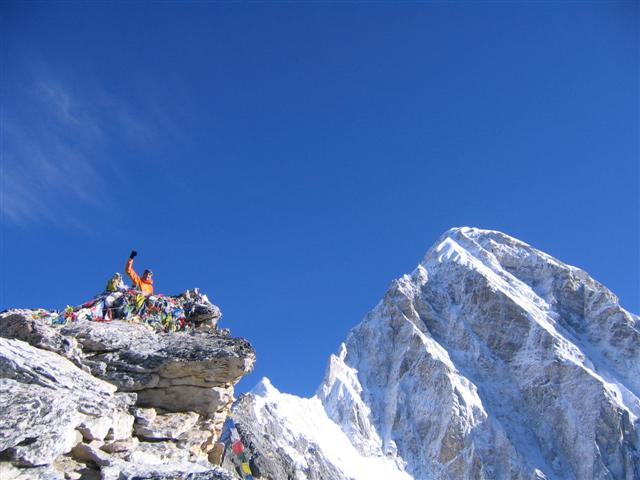 I head back down to the lodge, grab some breakfast, and pack up. My head begins to pound and I can barely stand it. I rush to descend in hopes of fixing the situation.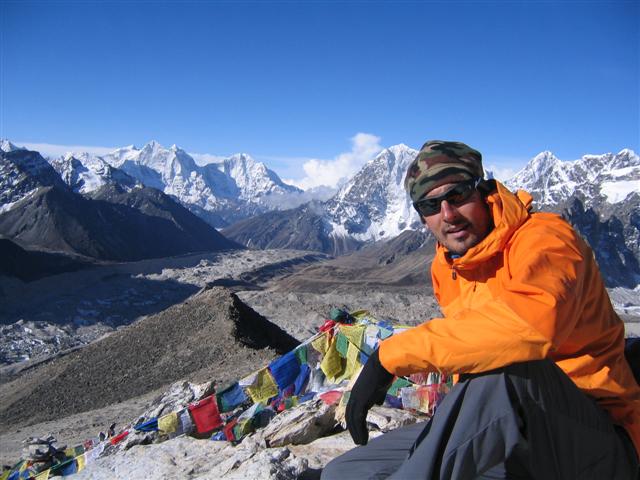 I get back to Lobuche by noon and am feeling much better. There are several hikers that end up being picked up by a helicopter just outside of the village. Rumour had it that they were suffering from altitude sickness.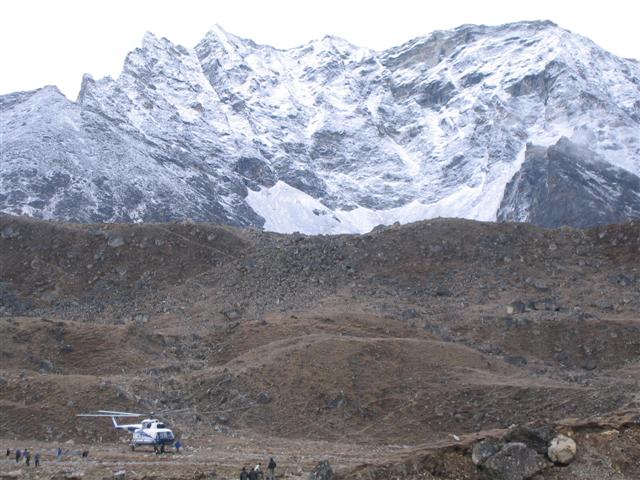 I kill time chatting with travelers and playing with my rubix cube. I am in bed by 9pm.
Day 11 (May 19)
Lobuche (4910m) – Dzongla (4830m)
I am up at 7am. I have a nice cinnamon pancake for breakfast with some tea. I thought there would be places to check my e-mail and I suspect my family is worried about me not contacting them for so long. There is nothing I can do at this point. I leave at about 9am and start hiking.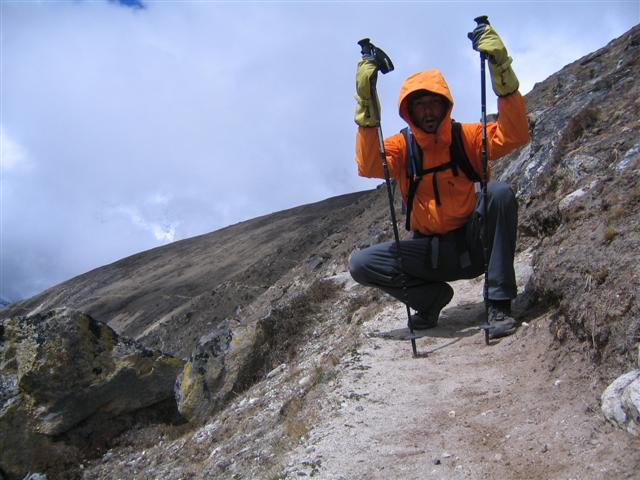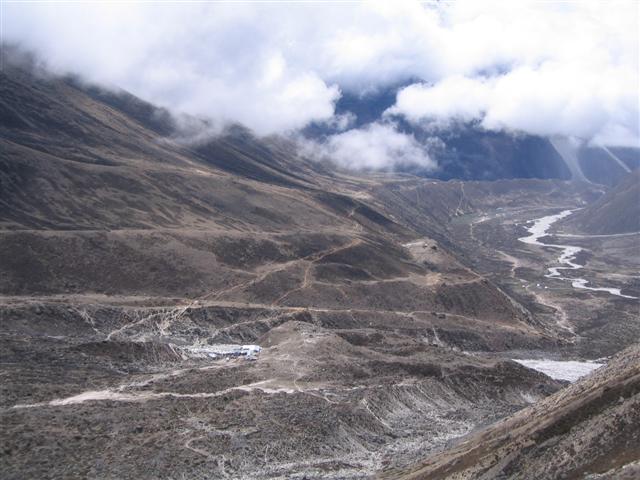 By noon, I have arrived in Dzongla. The hike is not difficult but the trail along the ridge is very steep and could result in injury if you fell. I end up staying in the Himalayan Lodge.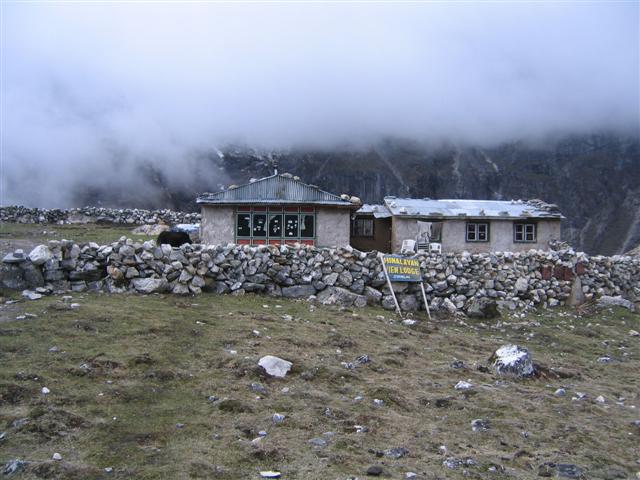 The temperature has really dropped and it is very cold. I am nervous about doing the Cho-La pass tomorrow on my own. With no one around, I find passing time difficult. I am pretty dirty and not really comfortable. I am in bed by 8:30pm.
Day 12 (May 20)
Dzongla (4830m) – Cho-La Pass (5330m) – Gokyo (4790m)
I am up nice and early for my hike today. At 6am I am having breakfast. I haven't slept well because of my periodic breathing. I leave for the Cho-la Pass by 7am.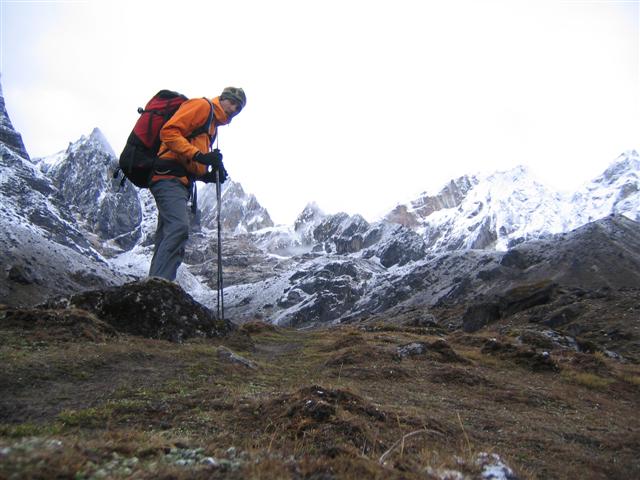 It ends up being the highlight of my trip. The pass is beautiful, and quite challenging. I end up having to put my gaiters on and break trail.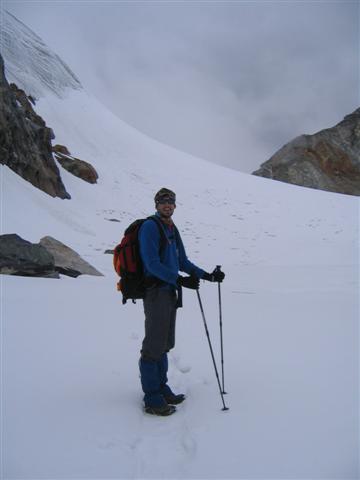 The whole experience was amazing. A storm hits mid crossing and visibility is affected but nothing major. No view from the top, but you really get the feeling that you are high up there.
The way down is steep, but the layer of snow makes it fun to glissade down. By the time I reach the bottom, the snow is gone and it's once again a dirt path.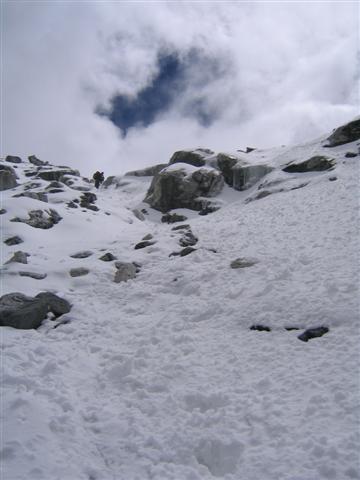 I reach Thangnak by 1pm. I stop and eat some spaghetti and meatballs before continuing to Gorak Shep which is another 2 hours or so. Total hiking time is 8 hours today. I stay at the Namaste Lodge and have fried momo's for dinner. I chat with some of the other travelers before going to bed at 9pm.
Day 13 (May 21)
Gokyo (4790m) – Gokyo Ri (5360m) – Gokyo (4790m)
I wake up at 4am for a day trip I have planned. I actually slept last night without the periodic breathing, thank god! I climb Gokyo Ri in a tough 2 hours.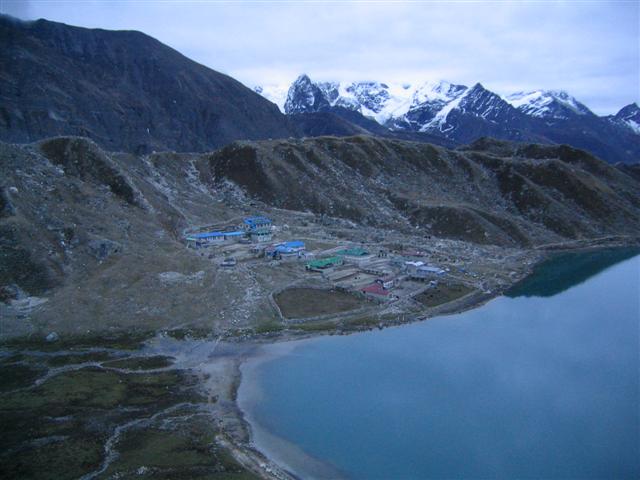 I snap photos and am back in Gokyo by 9am. I am so tired that I pass out for 3 hours in my room. At 1pm, I go to the dining area and talk with a lonely woman who seriously will not stop talking. The clouds clear and I get my first glimpse of Cho Oyu, the 6th highest mountain in the world.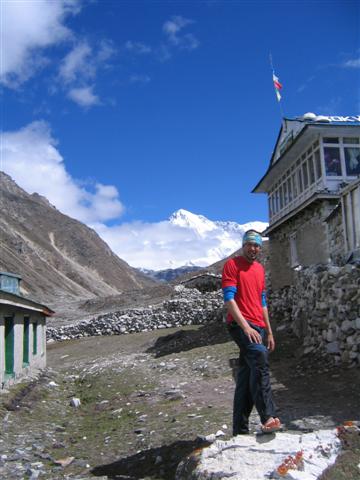 I order dinner and stock up on snacks for tomorrows adventure. In bed by 9pm.
nbsp;
Day 14 (May 22)
Gokyo (4790m) – Scoundrels View (4990m) – Dole (4200m)
I am up at 5am and having breakfast by 5. I hit the trail by 6:30am. It takes 3 hrs to get to the 5th Lake and Scoundrels View.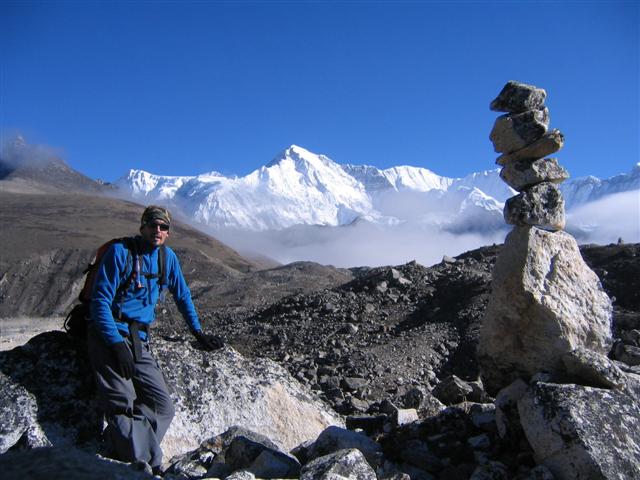 I luck out and the weather is clear for about 30 minutes. I eat some snacks and enjoy the surroundings.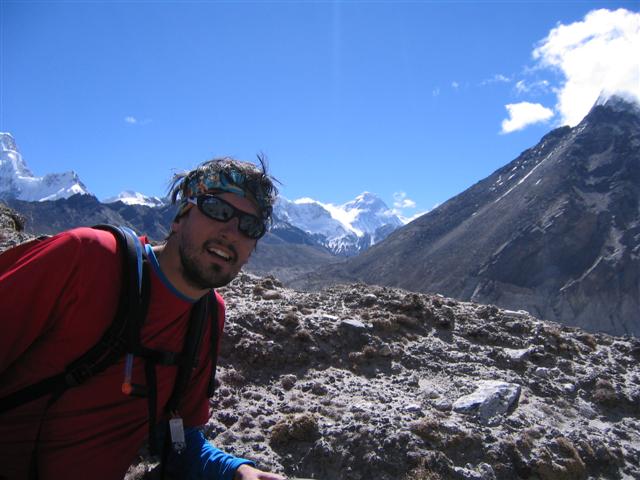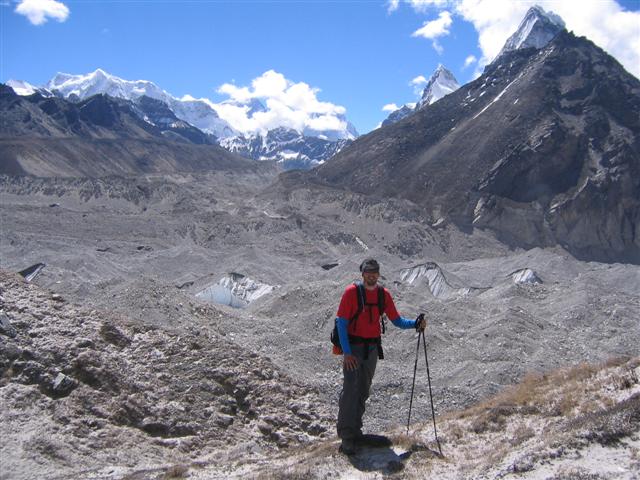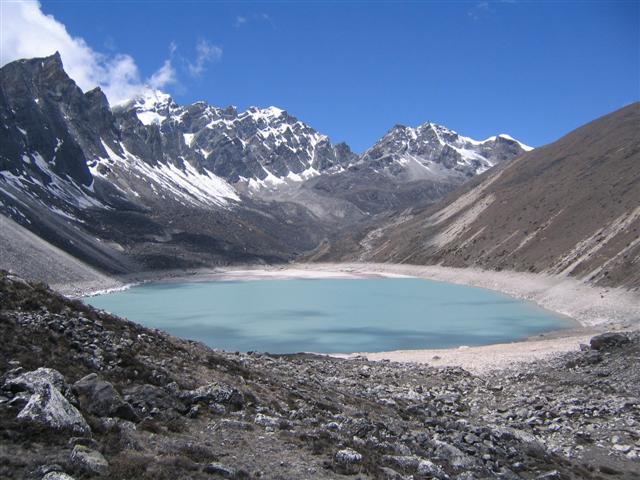 After heading back to Gokyo I pack and begin to head towards Dole. The trip take another 4 hours and by the time I get there, I am exhausted. Today's hiking time is 11 hours. On my way down, I meet some Korean guys on the trial. He tells me that I am very handsome and decides to walk with me, it's totally weird but I think he means well as his english is not very polished.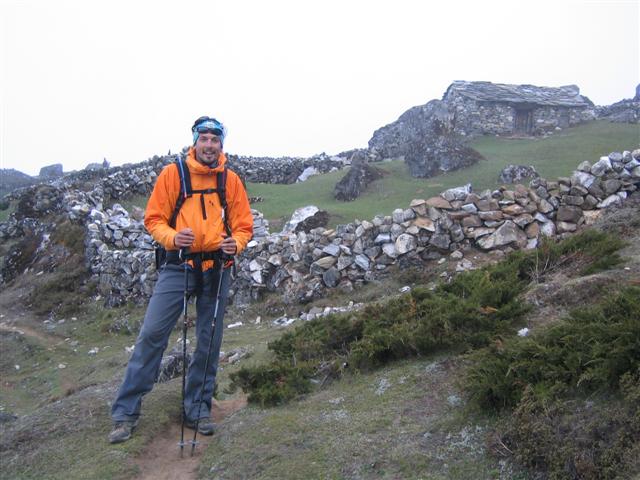 He ends up staying at the same place as me in Dole and meets some of his friends there. They are infatuated with my home made sandals. They take a picture, give me their business card, and tell me they want to market them. I'm in bed by 10pm.
Day 15 (May 23)
Dole (4200m) – Lukla (2840m)
I am up at 6:30am, eat a peanut butter sandwich and am hiking by 7:30. I end up spotting a deer of some sort just off the path.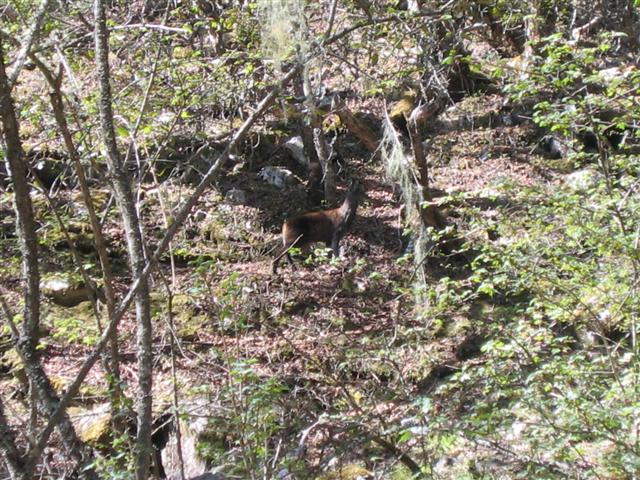 I arrive in Namche at noon. I book a plane ticket for the next morning and finally get to e-mail my family from a small internet shop located there. I'm sick of the potatoes and momo's, so I order a yak steak for lunch and finish it off with a piece of chocolate cake from the Everest Bakery. I am back on the trail at 1:30pm.
The terrain is well forested again and the temperature is rising. The extra oxygen is a welcome addition!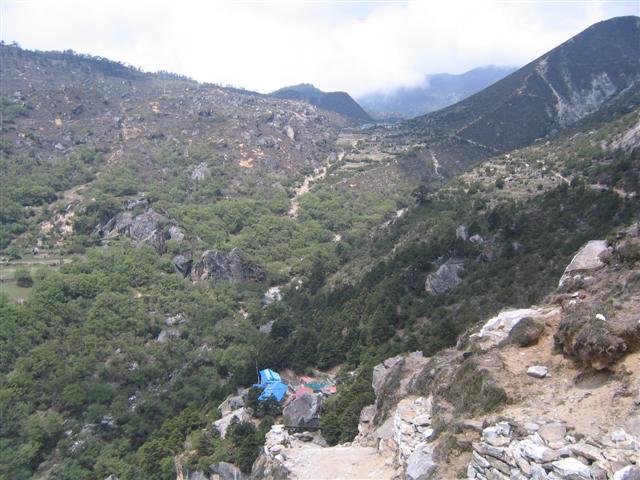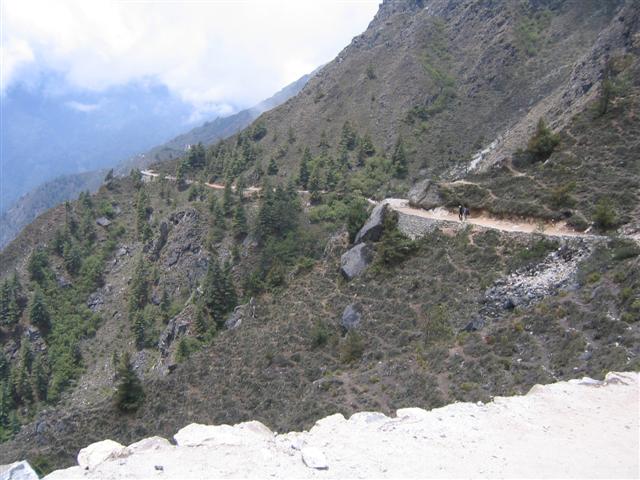 I am already tired with sore feet but I have to make my plane trip tomorrow. I stop back in Phakding for a chapatti and water but push on to Lukla. I arrive at about 8:30 and had to use my headlamp for the last 30 minutes of hiking. Kinda freaky. I get a room at the North Face Resort for 150NRS and have my first beer in weeks, it tastes great, along with some spaghetti! I'm feeling pretty beat up by now.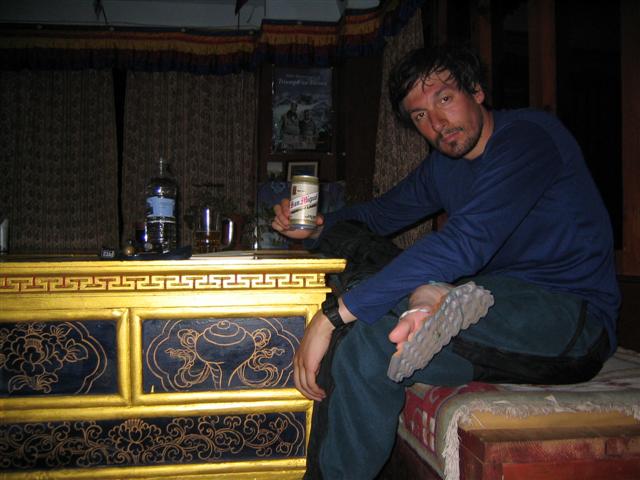 I have a monster blister on my heal. Today was about 10 hours of hiking. Rumor is that flights have been delayed for 2 days because of weather….I cross my fingers.
Day 16 (May 24)
Lukla (2840m) – Katmandu (1370m)
I am woken by the staff telling me that flights are a go and I need to get to the airport. I pack my stuff and head over. The airport is chaotic as everyone is trying to get flights back to Kathmandu.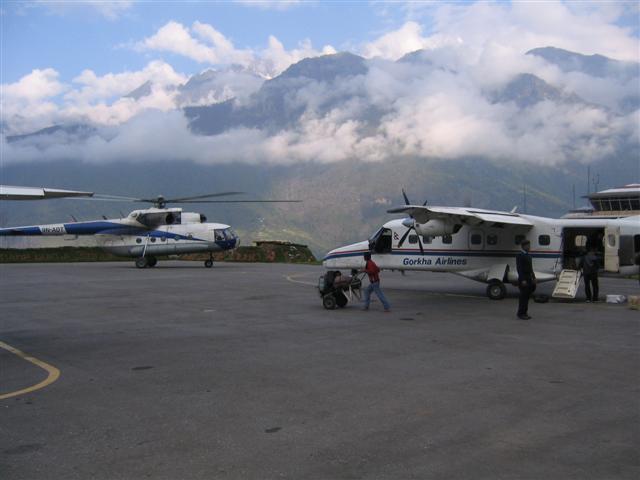 I see my German buddy Tim who I had met earlier on the trek. He is on the flight before me and we agree to meet at the airport in katmandu. Taking off from here is something else. The plane basically flies off a cliff, so be ready if you plan to go! I arrive in Katmandu and find Tim waiting for me. We grab our stuff and head into town. First stop, K-Two Steakhouse for some real food!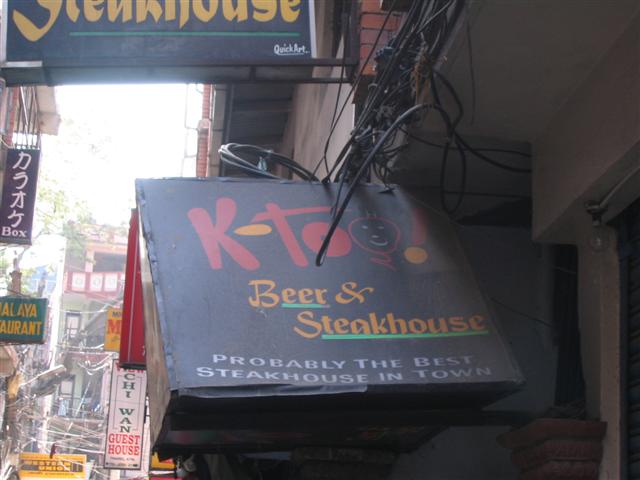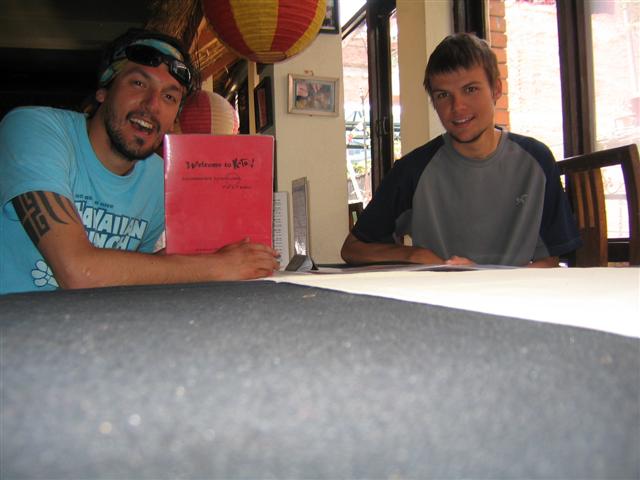 I spend another week traveling through Nepal…but that's another story in itself!
Wow, what an adventure!!!